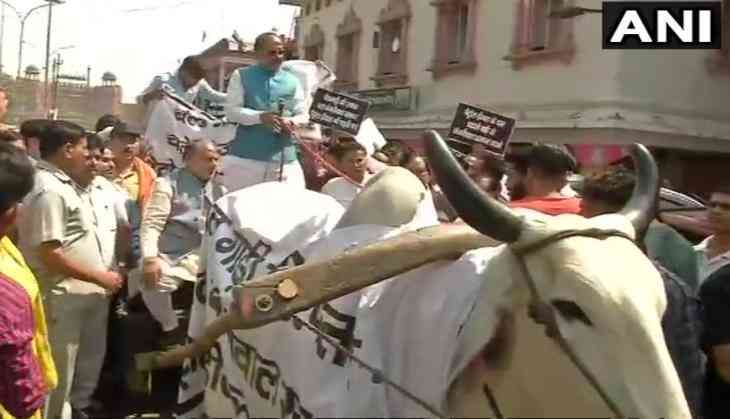 In a protest against the rise in the fuel prices, the Union Minister Vijay Goel rode a bullock-cart in national capital's Chandni Chowk. The petrol prices in Delhi is rolling to Rs 81. 82 per litre and diesel at Rs 73.53, following which the Bharatiya Janata Party minister Vijay Goel decided to ride a bullock cart.
Vijay Goel took out a march on a bullock cart in Delhi at 11:30 am from the Red Fort in Chandni Chowk, demanding the Arvind Kejriwal-led Delhi government reduce fuel prices.
Union Minister Vijay Goel rode a bullock cart in Chandni Chowk demanding the Delhi Government reduce prices of fuel pic.twitter.com/kLLCsjIQsI

— ANI (@ANI) October 7, 2018
"I took out a protest in Chandni Chowk demanding reduction in fuel prices by the state government. It's appalling that the AAP has not joined other states in doing so and it's a gross injustice to all Delhiites," Mr Goel tweeted.
The central government on Thursday cut off Rs 2.50 a litre in petrol and diesel prices on Thursday. On the same day, 12 states gave relief in fuel prices after the government announced an Rs. 1.5 per litre cut in excise duty. However, the Delhi government did not slash a penny.
Calling out the excise duty cut on fuel a "cheating", Delhi Chief Minister and AAP chief Arvind Kejriwal have demanded that the Prime Minister Narendra Modi government reduce duty by Rs. 10 per litre.
Also read: Aadhar Mobile linking row: Arun Jaitley says 'it's still possible to link mobiles to Aadhaar, provided there was statutory backing'