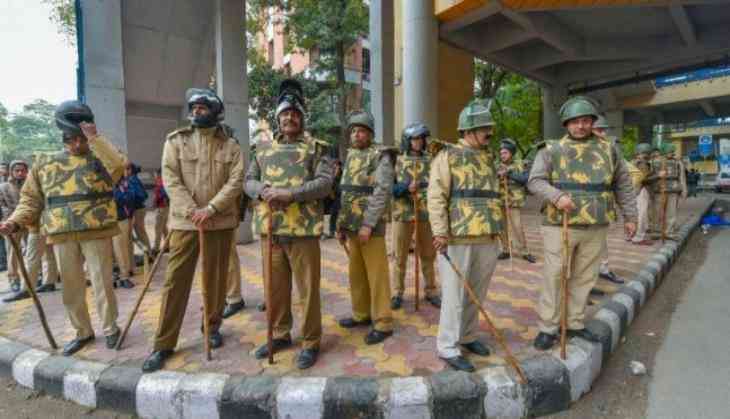 Anti CAA protest (File Photo/PTI)
The Delhi police had fired no bullets to control the violence that ensued during the protest against the citizenship law in Jamia Nagar area, Ministry of Home Affairs (MHA) officials said on Tuesday.
There have been allegations that police fired bullets on protesters during the agitation at Jamia.
As many as 10 people, having 'criminal backgrounds' were arrested in connection with the violence that erupted during the anti-CAA protest, the officials also said.
"No bullet was fired by the Delhi Police during protests at Jamia. All 10 persons detained have criminal backgrounds. More anti-social elements are being tracked," the officials said, citing a Delhi Police report.
Several vehicles, including buses, were burnt down and public properties destroyed during the protests against the Citizenship Amendment Act, which was passed by Parliament last week.
On Monday the Jamia Millia Islamia University VC, Najma Akhtar held a press conference and backed the students.
VC said, "We will file an FIR against the entry of Police on our university campus. You can rebuild the property but you cannot compensate for the things the students went through. We demand a high level of inquiry."
"There has been a strong rumor that two students died, we deny this totally, none of our students died. About 200 people were injured of which many were our students," she said at the presser.
When asked, whether police opened fire inside the campus, the Registrar AP Siddiqui said, "We talked to the Police Joint Commissioner and other senior officials on it, and they have strongly denied this rumor."
"We can not confirm or deny all the rumors, being floated on social media platforms," Siddiqui said on reports that Police entered the mosque at the campus and also sexually assaulted girl students.
Worth mentioning here that, members of Hindu, Sikh, Buddhist, Jain, Parsi and Christian communities who have come from Pakistan, Bangladesh and Afghanistan till December 31, 2014, and facing religious persecution there will not be treated as illegal immigrants but given Indian citizenship.
The Act says refugees of six communities will be given Indian citizenship after residing in India for five years, instead of 11 years earlier.
Also Read: Anti-CAA protests: Curfew lifted in Guwahati, 10 people arrested in connection with Jamia violence