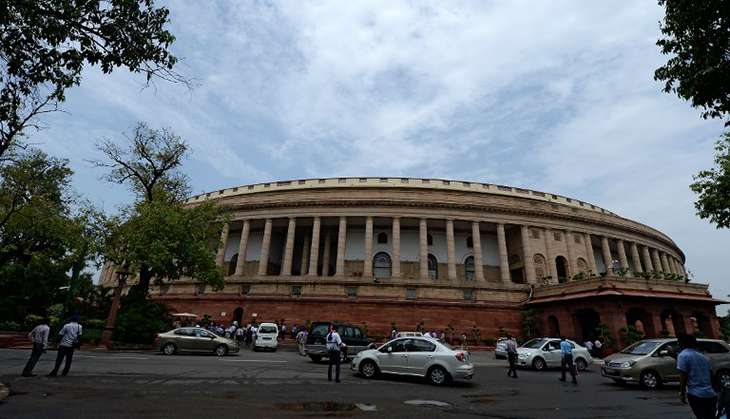 The Day 1 of the Winter Session of the Parliament in Rajya Sabha, witnessed various attacks on the Bharatiya Janata Party (BJP) government over its demonetisation move.
Launching a scathing attack on Prime Minister Narendra Modi, Opposition parties alleged selective leak of information on demonetisation of 500 and 1000 rupee notes to 'friends of BJP' and demanded making public the names of those who had bought gold and foreign exchange of over Rs 1 crore since April.
Various political parties today came together to criticise the government's decision of demonetisation since it has affected the common man badly.
Here are the important highlights of Day 1:
Yechury questions 'fascist' govt
Communist Party of India (Marxist) general secretary Sitaram Yechury dubbed demonetisation as a "fascistic way" on part of PM Modi-led government to control people's personal lives and alleged that the ruling dispensation has created mayhem in the nation leaving the people troubled.
"Now we have Modi Antoinette, "If you don't have paper, use plastic"; what is the coverage of your plastic money? If you stop Rs 500/1000 notes, do you think corruption will stop? Now corruption will double with Rs 2000 notes," he said.
Yechury said the people are suffering more everyday.
"Why are you agonising people? What is this fascistic way of controlling people's personal lives? There is a 'chamakta' (shining) India, for them Paytm and electronic wallets are viable. What about the 'trasta' (troubled) Bharat?" asked Yechury.
"What is the mayhem you have created? There so many suicides. The people can't get their father, mother treated in hospital," he added.
PM Modi's mother wouldn't have had to stand in queue if preparations were better: Mayawati
Accusing the BJP of creating chaos through the demonetisation of higher currency notes, Bahujan Samaj Party (BSP) supremo Mayawati said PM Modi's mother wouldn't have had to stand in a queue had the preparations been better.
"Prime Minister Modi would not have to resort emotional drama and not had to send his old mother to stand in a queue if they would have prepared to handle the situation," Mayawati said.
Mayawati also raised question about Bharatiya Janata Party (BJP) leader G Janardhana Reddy spending Rs 500 crores on his daughter's wedding and sought an answer from the Centre as why no action have been taken action against him as yet.
Rs 2000 note reminds me of 'churan ki pudiya': Anand Sharma
Deputy Leader of Opposition in the Rajya Sabha Anand Sharma today took a dig at PM Modi and his government for the sudden move to demonetise Rs 5,00 and Rs 1,000 notes.
The new 2000 rupee note leaves colour, reminds me of "churan wali pudiya" which we used to get in childhood, he said jokingly.
He even asked the PM to state where he got Rs 23,000-24,000 crore, estimated by the International Money Watch Group, for his Lok Sabha elections. He also asked if cheque or credit card payments were made to organise his rally in Ghazipur in Uttar Pradesh a few days ago.
Historic decision to curb corruption and only PM Modi could do it: Venkaiah Naidu
Speaking in the Rajya Sabha, union minister M Venkaiah Naidu today said that the decision of demonetisation is a historic step against corruption and only Prime Minister Narendra Modi could do it.
"Yes, there were shortcoming, but PM is holding review meetings and we are taking steps. There are separate lines for aged at banks and ATMs, toll free highways, etc," added Naidu.