As India woke up to a sudden ban on Rs 500 and Rs 1000 notes, the common man tasted the first wave of resistance to the government's decision. Despite repeated assurances from the Modi government that Rs 500 and Rs 1000 notes will be accepted for the next 72 hours, several counters refused to accept the notes.
1. Petrol Pump
Several petrol and CNG pumps in the Delhi-NCR region went on a strike to oppose the government's move.
"I have been trying to fill up CNG since 7:00 am today," says Noida-based Uber driver Yogendra, adding, "I am ready to give hundred rupee notes. But all pumps are closed in Noida."
Yogendra raced off to Delhi to fill up tanks, where most pumps were open. "Pumps are open in Delhi, but no one is accepting Rs 500 and Rs 1000 notes," he said. More reports of petrol pumps not accepting the banned notes poured in on Twitter.
Indian Oil Corportation Ltd had earlier tweeted:
Dear all,our dealers hv been advised to accept Rs500&1000 notes at petrol stations as per Govt orders.pl do not panic @dpradhanbjp @canthbs

— Indian Oil Corp Ltd (@IndianOilcl) November 8, 2016
2. Daily expenses in trouble
On Wednesday morning, several shops refused to accept the banned notes, requesting customers to give denominations of Rs 100 or lesser. Long queues were observed at milk booths.
People's r very angry coz they r not able to pay their daily expenses. They r not getting Change of 500 or 1000. Poor's affected mostly.

— उग्रनाथ झा (@ugranath) November 9, 2016
Meanwhile, taxi aggregator Uber sent the following message: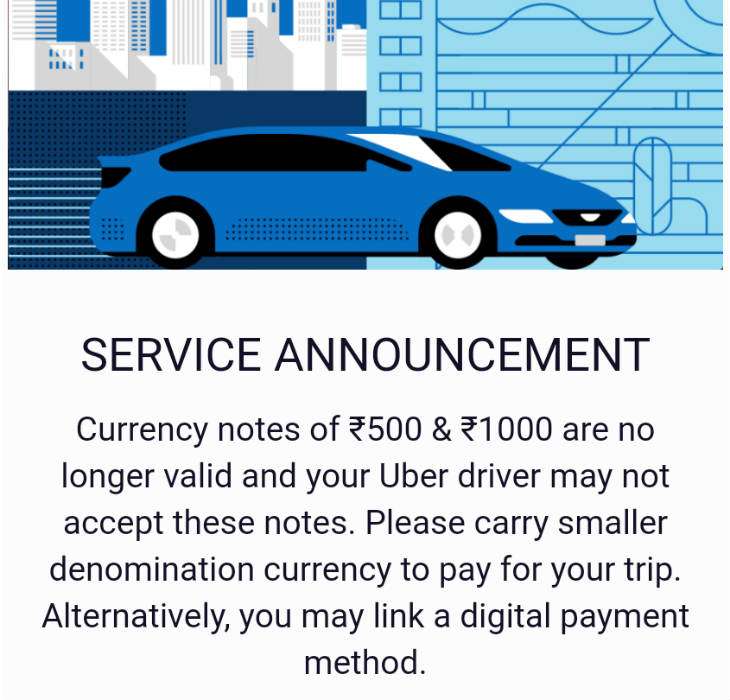 Uber notification on 9 November
3. Airports & Railway Stations
Passengers at airports and railway stations were stranded with Rs 500 notes.
"Faced first resistance at the very first transaction of the day," says Joydeep Sarkar. "Food stalls at Bengaluru airport not accepting any notes of Rs 500 or Rs 1000," he says. Sarkar, travelling to Chennai from Bengaluru, is suddenly faced with the possibility of being cashless as the Centre bans Rs 500 and Rs 1000 notes.
A several metro stations in Delhi NCR region, several commuters faced issues after ticket counters refused to accept the banned high value notes.
Traffic jam at Gurugram toll plaza after Govt scraps Rs 500 and Rs 1000 notes, authorities declared it toll free today for one hour. pic.twitter.com/WE8MWDMqTY

— ANI (@ANI_news) November 9, 2016