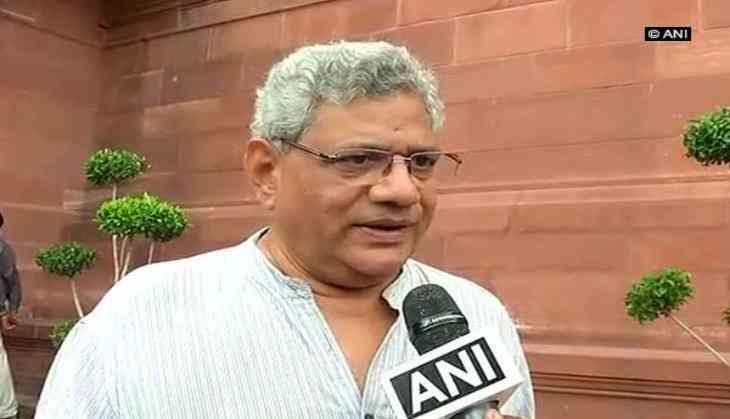 Communist Party of India (Marxist) (CPI-M), on Thursday, strongly objected to the Cabinet's decision of approving proxy voting for NRIs, saying that this is the "active work" of the overseas Bharatiya Janata Party (BJP).
Addressing the media, CPI-M leader Sitaram Yechury said that the BJP is involved in this issue and hence, is a "wrong" thing to happen in our democracy.
"This was an issue of a big debate and consolation at the Parliament in the past," he said.
He further noted that majority of the parties correctly see this as a wrong precedent to be said.
"Non-Resident Indians (NRIs) who are working or studying abroad, and who can delegate their voting rights to a proxy will have very serious consequences for influencing the results of the elections," he said.
He further said that many of the NRIs, particularly from the state of Kerala, are taken to work in the Gulf, their passports are also confiscated and kept by the owners or managers till they complete their work and they are not allowed to leave in between.
"In these sort of conditions the owners or the agents who send them there easily procure their proxy and this is a very wrong thing to happen and will be a very big thing for the distortion of our democracy," Yechury said.
He further said that there is a sort of "money power" in the election now, due to which many proxies can be bought, adding that the democratic process of free and fair elections will be distorted.
"The NRIs can come back to vote, they are most welcome, if they can't come it is very sad, but there cannot be a proxy voting on this basis," he said.
Yechury also said that there is a practice followed by "matured democracies" world over, where there will be a polling booth in the embassies, and the delegates or officials from these countries can vote.
"The United States, U.K, Australia, and other countries are provided with a polling booth in the embassy and as they are the citizens of that country, they have the right to vote and can go and cast their votes," Yechury continued.
He added that they are going to oppose this and would like the Government to reconsider and withdraw" the Cabinet decision that was taken on Wednesday.
-ANI