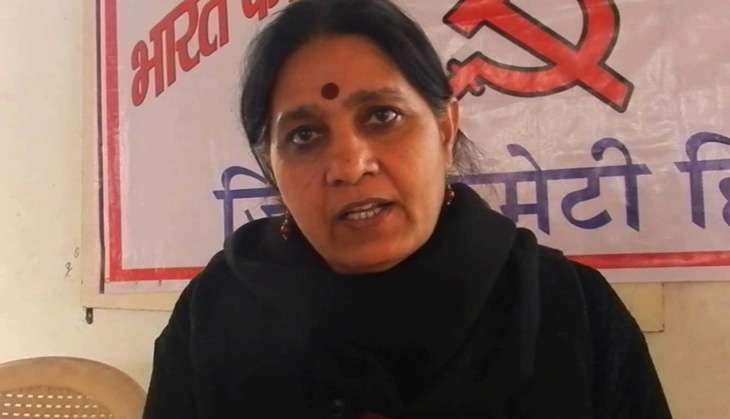 Communist Party of India (Marxist) leader Jagmati Sangwan walked out of a Central Committee meeting announcing her "resignation" on Monday to register her opposition to the seat adjustment with the Congress in West Bengal.
She was then expelled from the party's primary membership for indiscipline.
Jagmati Sangwan, 56, had taken on khap panchayats in Haryana and has been fighting for the enactment of a law against honour killings. In 1985, Sangwan had formed the All India Democratic Women's Association, an outfit loosely attached to the CPM and she had said she wants to continue as AIDWA's national general secretary.
According to The Hindu, Sangwan got up in the middle of the final session presided over by Tripura Chief Minister Manik Sarkar and said she wanted to resign. Sarkar told her to wait as the session was on. But she left the meeting immediately and announced to the media outside that she had resigned from the party.
"She left the meeting midway and said outside that she had resigned. What can anyone do after this?" CPI(M) general secretary Sitaram Yechury later said at a press conference.
"I had asked why the word 'violation' was not there in the statement referring to the tactical line adopted in Bengal," Sangwan, told The Hindu over phone.
The Central Committee reiterated the line that seat adjustment in Bengal was not in consonance with its decision not to have an alliance or understanding with the Congress.
"This should be rectified and the Central Committee stressed the importance of adhering to the political-tactical line adopted by the 21 Congress members of the party," the CPI (M)'s press release said.
According to the report, Yechury said at his press conference that the Central Committee had authorised the Polit Bureau to ensure the implementation of the party's electoral tactical line.