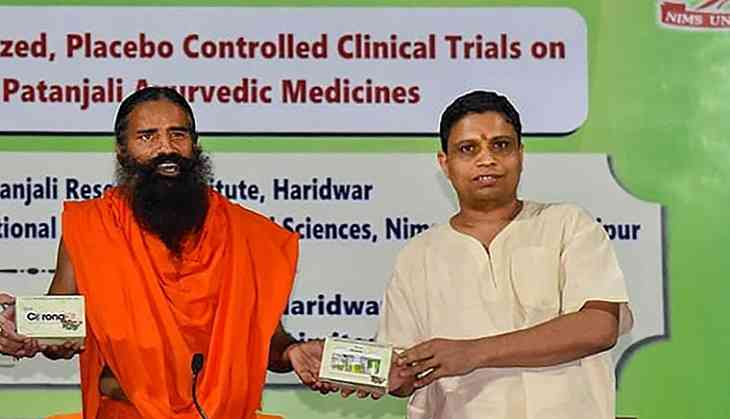 Baba Ramdev's Patanjali has claimed to find an Ayurvedic cure for treating COVID-19 patients. Ramdev made this claim during a press conference and even launched a kit for treatment of COVID-19 patients. Now it is becoming clear that mandatory legal permissions were not apparently sought and concerned medical authorities were kept in the dark.
No wonder drug
Health Minister of Congress government in Rajasthan has termed Ramdev's wonder drug announcement an illegal act, which only misleads people and put many lives in danger. "This is a criminal act, Ramdev and other indulging in these acts should be punished as per the provisions of the law in these cases," says Dr Raghu Sharma, Health Minister of Rajasthan.
Government, ICMR asking valid questions
Raghu Sharma was responding to questions raised by Patrika.com journalists during an interactive FB Live Session today (Wednesday). "It is one thing to say one drug boosts immunity but another to pass it off as a curt for COVID-19. There is a set procedure which every drug has to go through before being made available for the masses, but Ramdev ignored all the guidelines, ICMR and Ayush Ministry have also asked him to stop making such claims and provide relevant documents," says Raghu Sharma.
Ramdev's plans to hit the market with his COVID-19 medicine have been scuttled by the Centre, ICMR, and Ayush Ministry till all relevant questions are answered.
Ramdev has no authority: Raghu Sharma
"All such claims can be made by the government and related ministries. Who is Ramdev to make such claims?," asks Health Minister of Rajasthan.
No valid clinical trials
Responding to questions that Ramdev has claimed "clinical trials were conducted on patients in Rajasthan too which were successful", Raghu Sharma says: "No such tests were conducted after taking government approval, some people were kept at one place for a few days but due to bad conditions at that place, they all were called back."
Zero tolerance against false claims
Dr Raghu Sharma has warned that in Rajasthan, stern action will be taken against those found claiming to find COVID-19 treatment drugs. "No one can be allowed to mislead people and instil a false sense of confidence in them when there is no authentic drug available right now," says Dr Raghu Sharma.
Also Read: Uttarakhand Ayurved dept issues notice to Patanjali for developing COVID medicines