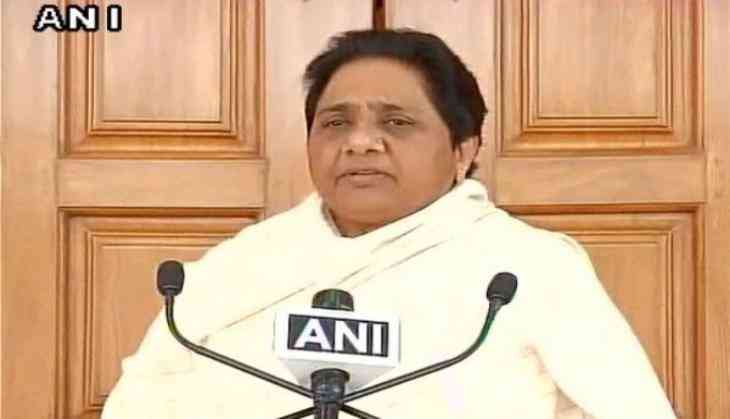 Bahujan Samaj Party (BSP) supremo Mayawati on Thursday asserted that whatever is happening in the country doesn't bode well for democracy, suggesting that people of the country should come forward to protect the institution from weakening.
Mayawati told ANI, "I want to say that yesterday whatever happened in Bihar and whatever is happening in other few states doesn't bode well for democracy. Country masses will have to come forward to protect nation from such activities."
Her statement came after Janata Dal (United) supremo Nitish Kumar on Thursday morning took oath as Bihar Chief Minister.
Bharatiya Janata Party (BJP) leader Sushil Modi also took oath as Bihar Deputy Chief Minister.
Bihar Governor Kesrinath Tripathi administered oath to Kumar and Modi at Raj Bhavan.
This is the sixth time, when Nitish has taken oath as the Bihar Chief Minister.
With this, the political uncertainty in Bihar that loomed in on Wednesday after Kumar's resignation ended.
Bihar witnessed heated political environment soon after Nitish Kumar resigned on Wednesday as Bihar Chief Minister to protest against his Deputy and Rashtriya Janata Dal (RJD) Supremo Lalu Yadav's son Tejashwi Yadav's stubbornness to stay in the Cabinet despite being named in F.I.R. over the corruption charges.
However, Tejashwi has put onus on Nitish and Bharatiya Janata Party (NJP) for the latest political development in the state.
Tejashwi said that political vendetta against him exposed the Opposition's viciousness.
"I delivered manifolds than what was expected of me. My performance perturbed our ally & BJP. Vendetta against me exposes their viciousness," he tweeted.
The RJD on Thursday morning was forced to cancel its protest march to Raj Bhavan to oppose Kumar's swearing-in ceremony due to the probationary orders.
-ANI