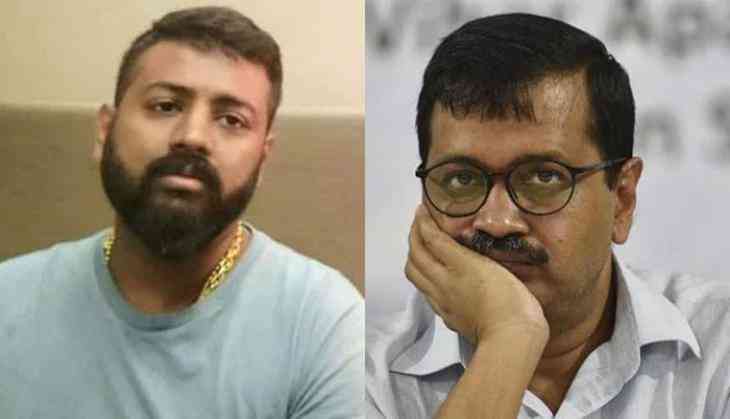 Sukesh Chandrasekhar alleges threats from AAP, Arvind Kejriwal.
Conman Sukesh Chandrasekhar, who directed numerous allegations against Delhi Chief Minister Arvind Kejriwal and Aam Aadmi Party, in a fresh letter to Delhi L-G VK Saxena has requested to transfer him and his wife from Delhi jail to any other jail across India.
Sukesh's legal representative has said that his client is getting constant threats and pressure to withdraw complaints registered against AAP, Arvind Kejriwal, Satyendra Jain and Kailash Gehlot.
Currently, the conman is lodged in Delhi's Mandoli jail no. 14, ward no. 1 as an under trial prisoner and his wife Leena Mandoli in jail no. 16.
Not long ago, jailed conman Sukesh Chandrasekhar had written letters to the Delhi L-G on October 8 and November 5, calling for a CBI probe against Arvind Kejriwal, Satyendar Jain, Kailash Gehlot and the Aam Aadmi Party.
In his latest complaint to Delhi L-G, the coman talked about receiving constant threats from Arvind Kejriwal, Kailash Gehlot, Satendra Jain and Aam Aadmi Party to take back his demand of CBI inquiry and statements.
Sukesh's wife is also being pressurised to take back the complaint and is abused by senior jail officials, Sukesh's counsel said.
Sukesh's legal representative has said that because of recent threats and assault on the part of our client, we request the transfer of Sukesh and his wife to any other jail outside the national capital.
Sukesh's letters has also been sent to the Prime Minister's Office, President's Office, Home Minister's Office, and Chief Justice of India.
The complaint registered on 7th November has also been attached in the letter, in which Sukesh has alleged that they were being threatened and harassed by the jail administration at the behest of Arvind Kejriwal, Satyendar Jain.
Many offers are being made to me by Satyendra Jain, I have evidence against Satyendra Jain, Arvind Kejriwal, for that reason they are pressuring me, Sukesh alleged.
Cases of death like Ankit Gurjar in jail compound are very common, so till the probe is done, for our safety, we should be transferred from Delhi jail to any jail in Uttar Pradesh, Haryana, Uttarakhand because the Delhi jail is under control of Arvind Kejriwal, Satyendra Jain, and AAP, Sukesh said.
They should be transferred to a state where there is no Aam Aadmi Party government, as the entire staff of Delhi jail acts like puppets of Kejriwal, Satyendra Jain, conman further said.
On 31 August, Sukesh Chandrasekhar was physically assaulted by a CRPF jawan inside the jail, causing injury to his private parts for which he had undergone treatment.
Also Read: 'Delhi CM should undergo Narco test...' Congress leader Ajoy Kumar on Sukesh Chandrashekhar's letter