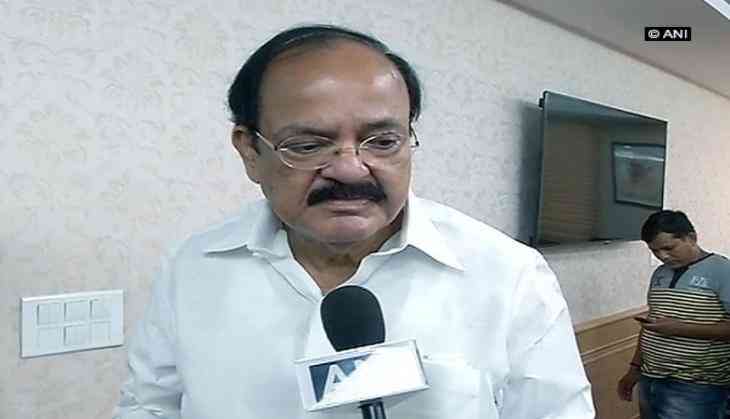 The Centre on 7 June hit back at the Congress Party, saying that the government endorses the idea of India and development-related initiatives as one, while the grand old party is the one that has divided India in the name of minority, majority, backward and forward classes.
"India is one and idea is also one, that is development and welfare of India, irrespective of caste, creed, sex and religion. You (the Congress) created minority, majority, backward, forward, urban and rural India," Union Parliamentary Affairs Minister M. Venkaiah Naidu told media here.
Naidu further cornered the Congress Party for backing separatists and criticizing the Indian Army, while saying that the grand old party has no moral right to criticize the Centre.
"You have been soft on terror and hard on nationalists; soft on separatists, stone pelters and hard on the Army. You are sympathizing with Afzal Guru, Maqbul Bhatt, Yakub Memon. You sympathize with such people. You are indulging in acts of publically cutting a calf in public. You are insulting the sentiments of others and giving us lessons and sermons," he added.
Asserting that the Centre pitches for development, Naidu further said that the Bharatiya Janata Party (BJP) is proud of the fact that even after three years, there is no scam and scandal linked to it.
Congress vice-president Rahul Gandhi had earlier cornered the BJP and its parent body, the Rashtriya Swayamsevak Sangh (RSS), while saying that the opposition stands united and would fight together against their 'one idea' agenda.
"These RSS and BJP ideas need to be crushed. The one idea of RSS is never ever going to crush thousands of different ideas in India. The opposition stands united and it will fight together and defeat the BJP and RSS," Rahul said at press conference in Tamil Nadu.
Further taking a dig at the saffron party and the right wing organization, Rahul said the BJP believes that the only people who should be in power in India are the ones who believe in the RSS.
Stating that cultural imperialism of the BJP is not acceptable to the people of India, Rahul said, "The central idea we are fighting is the idea of RSS. We are not going to allow one single idea of RSS to invade this country. We are going to fight the RSS together."
"The BJP and RSS believe there is only one idea and one culture that should run India, but we completely disagree with them. We'll never allow silencing of more than billion Indian voices," he added.
-ANI