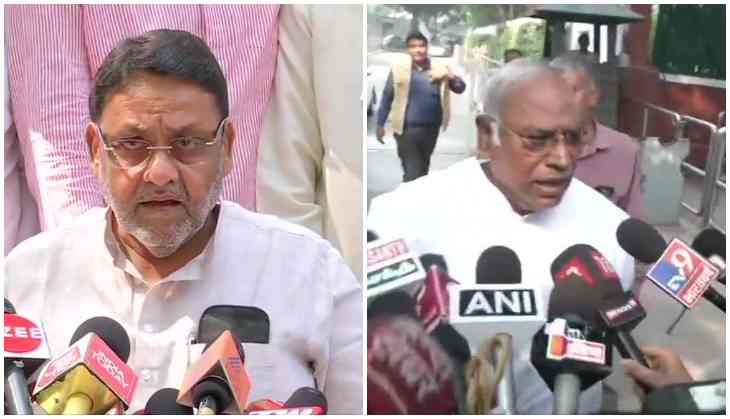 The Congress has called its Maharastra leaders to Delhi for further discussion on the political situation in the state, informed Senior Congress leader Mallikarjun Kharge after party's Working Committee meeting ended here on Monday.
The NCP, which held a core group meeting on govt formation in Maharashtra, said it will wait for Congress to take decision as both the parties had fought the Maharashtra Assembly polls together.

Addressing to reporters senior NCP leader Nawab Malik said, "We are waiting for Congress to take a decision. We fought elections together and whatever will be decided, it will be decided together."
Congress MLAs are in favour of supporting Shiv Sena-led government, but Congress Working Committee (CWC) is the supreme body to decide on their party line, Malik added.
Also Read: Goa CM Pramod Sawant reading Quran in Hindi, says 'curious' to know what's in it
Earlier in the day senior leader Sanjay Raut on Monday said that Shiv Sena would form the next government in Maharashtra with the support of the Congress and Nationalist Congress Party (NCP).
"Sena has decided to quit the BJP-led NDA in the Centre and would form a government in Maharashtra with the support of NCP," Raut.
"It is BJP's arrogance that they are refusing to form govt in Maharashtra. It is an insult to the people of Maharashtra. They are willing to sit in opposition, but they are reluctant to follow the 50-50 formula, for which they agreed before polls," Raut said blaming BJP responsible for the current situation despite the alliance getting a majority.

Worth mentioning here that the NCP has 54 MLAs while its alliance partner Congress has 44. If Shiv Sena, which had 56 legislators, gets the support of NCP and Congress, it will easily cross the majority mark of 145 in 288-member Maharashtra Assembly.
Also Read: 'Shiv Sena will form next government in Maharashtra with support of Congress, NCP'