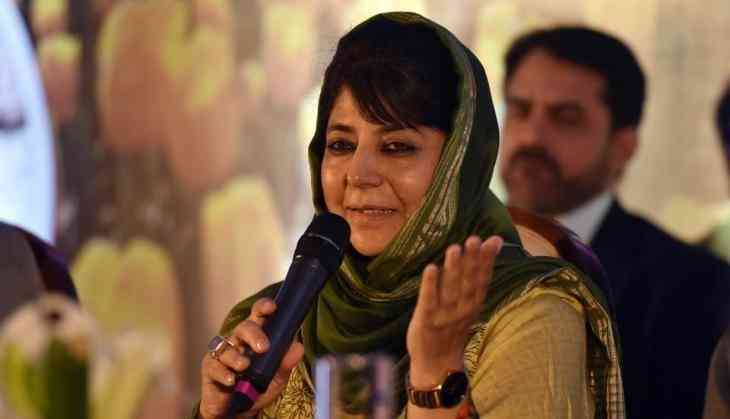 Chief Minister Mehbooba Mufti
The Jammu and Kashmir Government on Monday re-introduced fortnightly 'Wadi Ki Sair' train for school children in the Valley.
The train service was introduced on December 12, last year, when Chief Minister Mehbooba Mufti had travelled from Banihal with students of different schools.
However, the train service, ceased as the educational institutions remained shut due to winter vacation in the Valley. And now that schools are reopened and all the facilities are available as well, the authorities have re-introduced this special train for school children.
Children appeared pretty enthralled as the train ride commenced again.
Iqra Irshad, a student onboard, told ANI, "We savoured the train ride. This certainly is not my first time of the so-called train travel but, the fact that I am getting to travel with quite a lot of other students is altogether a different experience. I take delight in the fact that from now on I will travel every now and then."
Meanwhile, there were students who have never seen a train before.
Mehak Ishtaq, another student, said, "To go quite candid, this happens to be my first train ride. I had never even seen a train before in my life so far and not only me but my friends were also deprived of the same. Albeit, it is the first ever train travel, we enjoyed like never before."
The whole idea behind re-inaugurating 'Wadi ki sair' is to provide kids with the exposure that otherwise they lack dearth of.
Altaf Bukhari, Education Minister, Jammu and Kashmir said, "We are endeavouring to provide exposure to the kids in the Valley. They must be aware of their environment and surroundings as to what is happening around them. We are glad that students have been so receptive about this decision. Soon, we will conduct debate contests, fairs and plethora of such events for the development of our students."
Students, despite being in Kashmir, have never seen Kashmir so far.
Ajaz Ahmad, District Cordinator, said, "Today was the first time that students got to see different stations like Sopore, Baramulla and etc. Many of them had never travelled in the train before today. They will learn quite a lot from this train travel and I am hopeful they will be more aware of the civilization."
The 'Wadi Ki Sair' would run on every second and fourth Sunday of the month from Banihal in Jammu region to Baramulla in north Kashmir via Qazigund, Anantnag, Srinagar and Badgam. Jammu and Kashmir Education Minister Altaf Bukhari re- inaugurated this special train for children.
-ANI