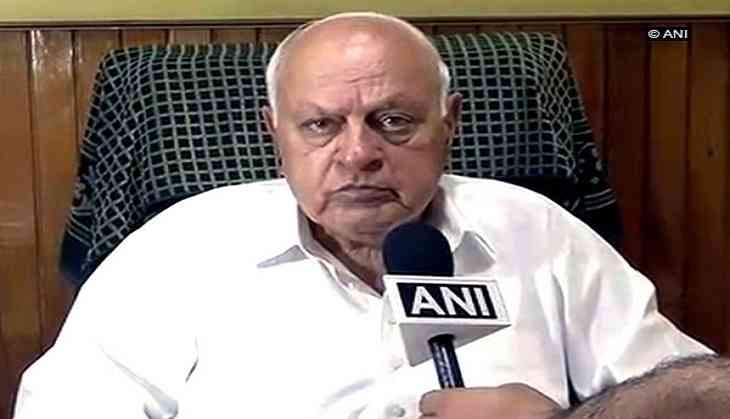 National Conference president Farooq Abdullah on Tuesday urged the Centre to take stringent measures to ensure the security of all Amarnath Yatra pilgrims.
Abdullah also appealed to the people of the nation to come together in solidarity and show the terrorists that they are not afraid.
"This is the most tragic event. We have faced many tragic events but this is the biggest blow to our secular character and I think basically I would like to say to people of our nation that we have to fight these terrorists who want to damage the very fabric of our secular character," Farooq told ANI.
"They want to destroy India's oneness. And therefore I appeal to all even in these tragic circumstances to form more numbers for this yatra and otherwise to this state to show solidarity with people who are fighting against these forces. And I also appeal to the government to take for most stringent measures for security of these people," he added.
Earlier in the day, Congress leader and spokesman Randeep Surjewala told ANI, "Indian National Congress (INC) demands that not only should the government ensure full treatment of all the injured Amarnath Yatris, but also ensure the safety of all yatris undertaking the holy yatra."
Surjewala questioned the government over not providing adequate protection and not taking preventive measures.
"The most important thing that has come out is that the bus was plying at a time when curfew was on. Why was no security cover given to the bus? Should all these security lapses not be examined?" he asked.
Surjewala said that it is time for the government to wake up and act beyond words.
"Are we again going to brush aside such an important issue in the garb of meetings and inquires, or are we going to take decisive action to punish the guilty and to cleanse all terrorists who have dared to attack this most holy of the yatras in the country," he said.
Meanwhile, a high-level meeting is underway at Union Home Minister Rajnath Singh's residence.
Jammu and Kashmir Chief Minister Mehbooba Mufti has also called for a cabinet meeting over the same.
Mufti and Jammu and Kashmir Governor N.N. Vohra paid tributes to the pilgrims who lost their lives in the attack.
Yesterday, terrorists attacked a bus in Anantnag district, killing seven pilgrims and injuring 15 others.
Reportedly, the bus was neither a part of a convoy nor registered with the shrine board.
-ANI