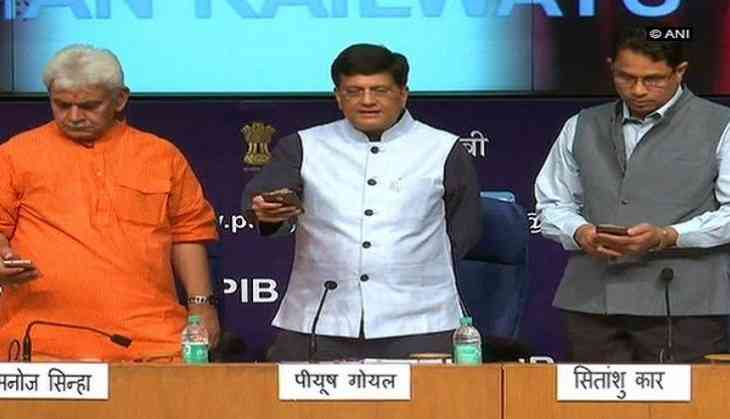 The Ministry of Railways on Monday launched two mobile applications to ease the travelling experience.
The two apps, 'Rail MADAD' and 'Menu on Rails', were launched by Railway Minister Piyush Goyal and Minister of State (MoS) Manoj Sinha during a press conference organised to highlight the achievements of the Ministry in the last four years.
While Rail MADAD will enable travellers to lodge complaints, Menu on Rails will facilitate seamless ordering of food.
Talking about the progress of the Railways in the last four years, Goyal said safety has been made the top priority of the government, keeping in mind the philosophy of 'Saaf Niyat, Sahi Vikas' (development with the right intention in the right direction)
"The theme for development this year is to improve connectivity for the poor, in line with Mahatma Gandhi's ideologies. We have been working towards development with the right intention, which has yielded significant results for us. Our focus has been on improving safety, avoiding rail accidents, installation of CCTV on all coaches and clearing our backlog," he said.
Goyal further noted that the government has saved around Rs.11, 000 -Rs.13, 000 crores through electrification, adding that 30,000 km of electrification has been done by March 1 this year.
Acknowledging that punctuality has dropped in the recent past, the Railway Minister said this would soon be brought back to normal.
However, Goyal clarified that the Railways has not and will not be privatised in the future.
"Punctuality in the short term has been impacted as a result of prioritising infrastructure and safety works. But in the long term, this would enable faster and safer train movement, with a greater focus on digital initiatives, transparency and accountability," he added.
Goyal, however, noted that the non-usage of the Railway Security Fund which was commissioned during the tenure of former Prime Minister Atal Bihari Vajpayee has led to a more 'unsafe' railway.
"Using technological advancements, we are making judicious use of the safety fund to implement fast-paced railways and improvement in signalling. Free WiFi is provided at more than 675 stations in the country, and our aim is to install the same in around 6,000 stations. We are also working at ramping up the capacity of the Railways using technology," he added.
Goyal further stated that the Coal and Railways Ministries are working together to ensure that at no point in time, anybody loses the ability to generate power for lack of availability of coal.
"Coal production, which was 462 million tonnes in 2013-14, has increased to 567 million tonnes in 2017-18, and in the current year, it is growing at 15 percent. In the past four years, the coal sector has also boomed, and its imports also decreased. We are trying to encourage coal plants which are based on imported coal to redesign their capacities so that they can use more domestic coal. We also met Power Minister RK Singh; we will ensure an adequate supply of power to plants," he said.
(ANI)