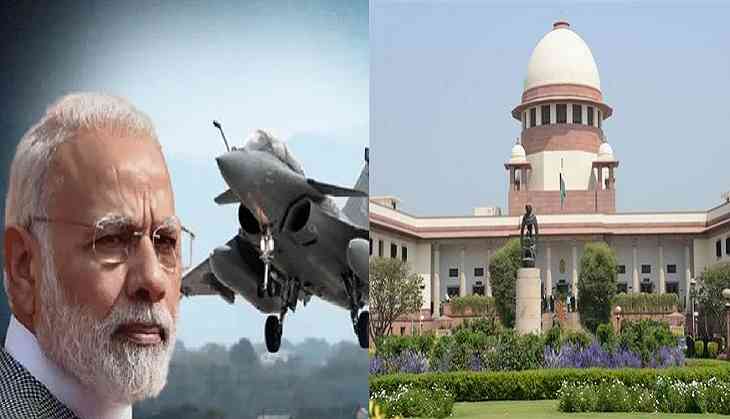 The BJP government has today submitted details of Rafale Jet deal to the Supreme Court in a sealed cover. The matter reached the apex court after a plea was filed seeking details of the deal signed between Indi and France.
The details were submitted to the Court Secretary General and in the leaflet covered in a sealed package. The deal has made a lot of noise in the corridors of the parliament and the Opposition has always targeted the Narendra Modi government by alleging that "Rafale is the Bofors of the BJP"
The next hearing of the case is on October 29, when the bench headed by the Chief Justice Ranjan Gogoi had sought from the Centre the details of decision making process without the technical details and the prices of the Rafale fighter jets.
Rafale fighter jets is one of the foremost technological advancements for Indian Air Force which can be a game changer in the times ahead.
The Air Chief Marshal B S Dhanoa had earlier said, "When it comes to the subcontinent, it will be a game-changer because it has significant capabilities, better than what our regional adversaries have got. It takes care of even the new aircraft they (adversaries) are likely to induct in near future, we have a very good package along with the aircraft."
The Rafale Jet deal between the Dassault company of the France and India's Reliance Defence has come under the scanner of the Opoosition, when Anil Ambani was reeling under debt crisis. The debate over giving benefits to the Ambani group and taking away the deal from the proposed HAL (Hindustan Aeronautics Limited), and the controversial deal prices has given fume to the case.
Also read: Department of Telecom directs tele companies to stop Aadhaar based e-KYC after Supreme Court's verdict
A bench headed by Chief Justice of India Ranjan Gogoi had sought from the Centre the details of decision making process without the technical details and the prices of the #Rafale fighter jets. The Supreme Court has fixed the case for hearing on October 29. https://t.co/qEVTpbL0Hz

— ANI (@ANI) October 27, 2018