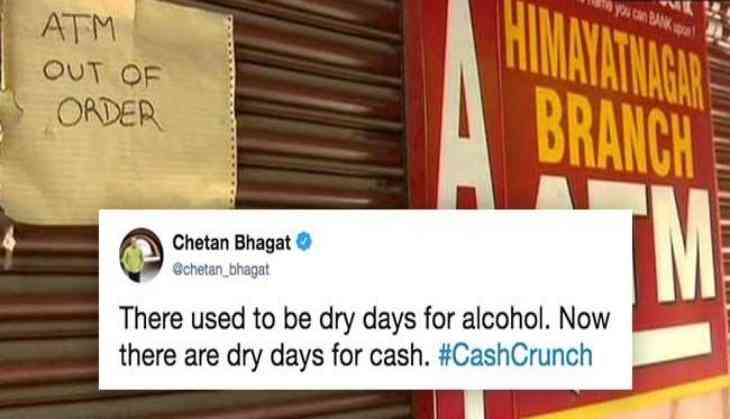 The silent demonisation is striking in many states as ATMs runs dry making people remembering cash crunch during the note ban on 8 November 2016. Many people across the country are facing a shortage of cash from last 15 days as the ATMs are not dispensing currency notes.
"We are facing a cash crunch. ATMs are not dispensing cash. The situation has been the same for 15 days. We have visited several ATMs today as well, to no avail," the agency quoted people as saying. In Hyderabad, news agency ANI quoted people as saying they had been unable to withdraw cash since yesterday. There are similar reports from Varanasi.
The cash crunch has been reported in several states Andhra Pradesh, Gujarat, Rajasthan, Uttar Pradesh, Madhya Pradesh and Maharashtra including poll-bound Karnataka. In Delhi also, people are tweeting about cash crunch at many ATMs of the Capital.
Meanwhile, Finance Minister Arun Jaitley calls it a temporary shortage and said, "overall there is more than the adequate currency in circulation...the temporary shortage is caused by a sudden and unusual increase in some areas."
Well, whenever government give chances to the people they without giving a thought and slams their act of government failure. No doubt Twitterati are creative and funny both at a time and knows well to take a dig over the issues in a unique style. Just, the news of Cashless ATMs made rows on media, twitterati came on the filed with their creative heads that are their big weapons.
One of the Tweeple trolled Finance Minister and tweeted, "Dear Finance Minister, Cashless Economy does not mean Cashless Banks and Cashless ATMs. We hope you understand."
Also read: ATMs runs dry in many states, people face cash crunch after Rs 2000, other notes vanish; here's what government has to say
Check the tweet here, how tweeple started a #CashCrunch rebellion.
#CashCrunch

Newly Built

'Cash Bank of India' pic.twitter.com/P55IsU3YY2

— Rinku (@indcheated2014) April 17, 2018
Empty #ATMs! Acute #CashCrunch! Just to remind ourselves of the background story! pic.twitter.com/4CKCUY4Wb2

— Dipankar (@Dipankar_cpiml) April 17, 2018
Acche Din #CashCrunch is Bura Waqt for BJP?

These are Good times for Common People?
Rapes
Petrol Price Rise
Diesel Price Rise
Unemployment Rise

2014 Promised To:
Create 1 crore jobs every year.
Bring back Swiss black money.
Send Criminal Politicians behind the bars in 1 year. pic.twitter.com/Dgphu47ajW

— IRFAN (@simplyirfan) April 17, 2018
1970s :: Diners Club Credit Card #CashCrunch #ATM pic.twitter.com/TWpPbsfo1m

— indianhistorypics (@IndiaHistorypic) April 17, 2018
Chalo, Fir se Paytm karo! How dare you not get the paytm KYC done? #ATM #CashCrunch

— Stuti Mishra (@StuteeMishra) April 17, 2018
#CashCrunch

ATMs are Cashless
Jaitley is Clueless
RBI is Careless
Modi is Speechless
Bhakths are Brainless
Citizens are Penniless@KilaFateh @NamoronBhakt @KPadmaRani1 @beindiya @RaykaParul @UmangSharmaINC @seemaadhikari @ScamBusterIN @Harmony222S @The_veenaD @ArkalgudRamesh

— Srinivas (@SrinivasSri2017) April 17, 2018
Dear Finance Minister,

Cashless Economy does not mean Cashless Banks and Cashless ATMs.
We hope you understand. 🙏#CashCrunch #CashlessATMs

— Kanhaiya Kumar (@kanhaiyajnusu) April 17, 2018