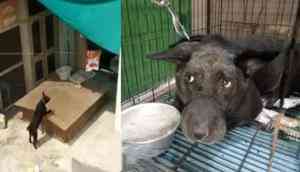 After Delhi's mysterious deaths of 11 family members in Burari area, mass suicide has bagged huge attention across the country.
In Burari case , Delhi Police and the whole country wanted to know that how these 11 people of the single family died on the same day. As the days pass, the new turn came to light in this case
Another member of Bhatia's family died. The pet dog of Bhatia's family died on Sunday evening reportedly of cardiac arrest. This pet dog was the only living soul to have come out alive of the residence after the mass suicide at Burari area in Delhi.
Police official reported that pet dog was extremely aggressive and was suffering from fever as high as 108 Fahrenheit.
India's most shocking and the mysterious deaths of 11 people in north Delhi' Burari till now solved.However, Police is waiting for the final postmortem reports. Recently, the new twist came to light when an anonymous person wrote a letter to Police on Tuesday and told about the reason behind the deaths.
Yes, an unknown man wrote a letter to Commissioner in which he claimed that the Bhatia family was having the connection with tantric.
Till now, Police has not found any evidence about any outsider involvement in the deaths of 11 people as well as any tantric. After this letter by an unknown person has screwed another turn in the case.
It is also being said that this anonymous man has written the letter on 3rd July to the Police Commissioner. He claimed that the 11 members of the family was trapped in superstitions belief and was also in contact with a 'Baba' from Delhi.
The man has discussed the 'bidi wale baba' in the letter that he has sent to Police. The writer of the letter claimed that the Bhatia family had come to visit the Tantrik. In the letter, he has mentioned about the baba that he is living in Delhi's Karala area named Chandra Prakash Pathak.

The tantric baba, Chandra Prakash Pathak is popularly known as 'beedi wale baba' or 'dadi wale baba' in the area. As per the information is written in the letter, baba called himself the devotee of Hanuman and starts churning till 6 pm.
However, Baba's wife is also a tantrik. The person who wrote the letter also claimed that he has seen the many people of the Bhatia family to met with Baba. He has also appealed to the Police for investigation against the Baba as he said that Baba would be the reason behind 11 people deaths.
Meanwhile, Police is doing the investigation and waiting for the final postmortem report.
Also Read: Child-Lifting rumours: Madhya Pradesh's mentally ill woman beaten to death by a mob on suspicion of child-lifting, 12 arrested