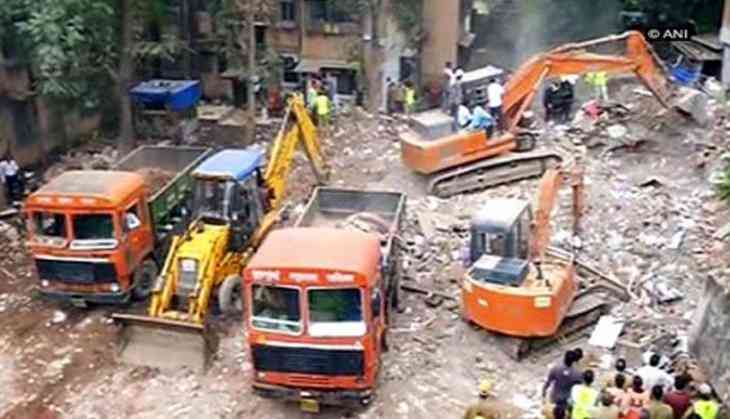 In a double whammy for a 31-year-old owner of a flat in the Ghatkopar building that collapsed last week, he not just lost his house and family members but has to now grapple with repayment of the loan he took to purchase it.
Vinod Thak, who lost his mother Pramila Thak (55), sister-in-law Amrita Thak (30) and niece Veronika (3 months) in the tragedy, had bought the flat on the third floor of the Siddhi-Sai Cooperative Housing Society just seven months back, by taking a loan of Rs 50 lakh from a bank.

Thak works with a software company in Bengaluru and lives there. However, his mother, elder brother Lalit Thak, the latter's wife and infant daughter were residing in his flat here.
On July 25, all the four were in the flat when the building came crashing down. Lalit Thak survived, while the other three died.
Vinod Thak is now in a state of shock and does not know how to deal with the twin setbacks.
"I am completely torn apart. I don't know what to do. Tomorrow is the day when I am supposed to pay my monthly instalment (home loan EMI), but why and how should I pay? I have lost my property," the distraught software engineer told PTI.
"I am going to meet the bank executives with a hope that they will give me some relief on humanitarian grounds," he said.
Asked what kind of relief he wants, Thak said, "I need to hear their side too. I will file my submission to give me relief."
Seventeen people were killed when the four-storey residential building collapsed last week.
Prime Minister Narendra Modi today sanctioned Rs 2 lakh each for the next of kin of those who lost their lives in the building collapse.
He also approved Rs 50,000 each for the injured, the PMO said.
Meanwhile, a relative of Thaks, Srinivas Chaudhary, demanded that the government expedite the process of rehabilitating the surviving residents of the building.
"Heard that PM Modiji announced a monetary relief of Rs 2 lakh to the deceased. This is quite ok, but we want our home back as soon as possible. So far, all the survivors are staying in the homes of their relatives," Chaudhary said.
Another survivor, who did not wish to be named, said, "This is very agonising. First, we lost our family members and assets and now, we are at the mercy of our relatives who have given accommodation to us."
"I have heard that the housing department is conducting a survey to allot temporary flats. When the state government cannot provide alternative accommodation in a week, there is no hope of speedy justice," he lamented.
When contacted, BJP Lok Sabha member from Mumbai's north east constituency, Kirit Somaiya, said, "I have spoken to the Thak family and advised them to approach the bank first. I will then pursue their case with the bank and appeal it to give moratorium (on loan payment)."
"The state government's as well as my top priority is to provide speedy relief to the aggrieved people. Their EMIs or loss of other assets will be compensated," Somaiya said.
"Apart from rehabilitation and redevelopment work for the victims and survivors, I am personally monitoring the progress against the accused in the case," he added.
A Shiv Sena worker, Sunil Shitap, was arrested last week in connection with the building collapse.
-PTI