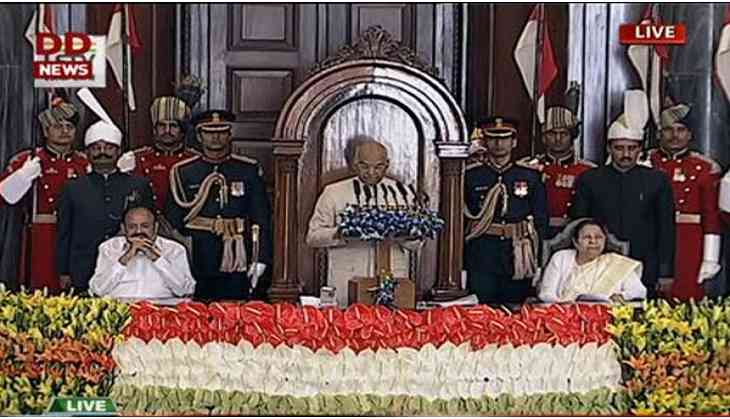 President Ram Nath Kovind
Union Budget of 2018 has raised the expectation for a common man. President Ram Nath Kovind has announced budget commitments regarding the various sectors like education system in India, farmers condition as well as pitched for smooth passage of the triple talaq bill during his joint sitting of Parliament at the start of the Budget Session.
Talking about the education system, President has committed to strengthen, modernise school and higher education system. He, while addressing the Rashtrapati Bhavan also added that education provides the foundation for building the future of the Nation. Government's 'Pradhan Mantri Jan Aushadhi' Kendras', help in providing 800 different medicines to the poor people of the country at the reasonable price. More than 3,000 of such Aushadhi' Kendras have been established in the country, added President.
This year budget will surely help in increasing the numbers of doctors in the country as the President has announced to increase the number of seats for MBBS.
President also said during a joint sitting of the Lok Sabha and Rajya Sabha that, 'Under the 'Deendayal Amrut Yojana', over 5200 lifesaving branded medicines and surgical implants are being provided through 111 outlets at discounts ranging from 60% to 90%'.
However, the final budget led by Modi government will come out on 1 February 2018.
Now, stay tuned for the Economic Survey that will be tabled by at 1 pm in both the Houses of Parliament.
Also read: Budget Session 2018: President Kovind hopes for passage of triple talaq bill