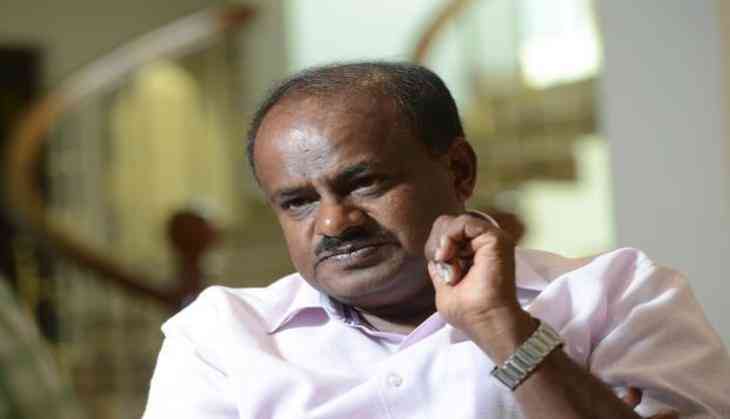 The war of words between Congress and BJP is on the peak across the country, including Karnataka. The ruling party in the Centre, BJP took a dig at Congress and it's Chief Minister HD Kumaraswamy stating, he was the "chief manager (CM)" of the Congress's ATM in the state, Karnataka and that he was lying prostrate at the feet of the Gandhi family.
The BJP attacked, JDS and Kumaraswamy after his latter comment on Sunday that, people have not chosen him and his party, he is at the Congress mercy, which his party had sought in the recently held Assembly election in the state.
"Nothing can be sadder than this. This is absolutely demeaning to the democratic fabric of the country and akin to an abuse of India's democracy," BJP spokesperson Sambit Patra told reporters.
Mr Patra alleged the Congress that, Karnataka was its ATM and it had found a chief manager in HD Kumaraswamy after Siddaramaiah, while the government in the southern state would be run from Janpath -- a reference to the residential address of former Congress chief Sonia Gandhi.
"The Congress has found a new manager for its ATM in Karnataka. We can say this after his (Mr Kumaraswamy's) statement. People are asking who is their chief minister," the BJP spokesperson said.
Referring to Prime Minister Narendra Modi's words, he said for the BJP, the country was family, while for the Congress, the "first family" of the party was the country. "Kumaraswamy is lying prostrate at the feet of a family," Mr Patra said.
BJP's national spokesperson, Mr Patra described the present situation in the state as a fallout of the Congress-JD(S) alliance's mockery of the popular mandate in the southern state for petty political interests.
In the Karnataka Assembly, BJP has emerged as the single-largest party in the Karnataka Assembly election by bagging 104 of the 222 seats that went to the polls, but fell short of a majority, allowing the Congress and the JD(S) to join hands and form a government in the state.
Also read: Kerala: Newly-married man abducted, tortured, and brutally murdered; cop told youth's father I'm 'busy with CM Pinarayi Vijayan