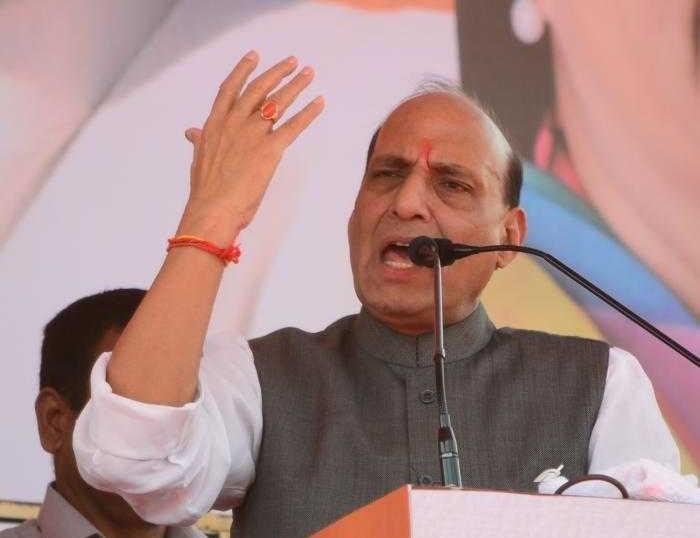 The BJP has kicked off its election campaign in the poll-bound West Bengal, with Home Minister Rajnath Singh addressing a rally in Barasat. BJP will be carpet bombing the state with several election rallies in the coming week.
Transport Minister Nitin Gadkari was supposed to address the first rally in Malda district on 18 January. Gadkari was denied permission by the local administration in lieu of a law and order situation following the 2 January violence in the district's Kaliachak region.
The Malda violence was one of the major highlights of Rajnath Singh's rally in Barasat.
The BJP has been of the opinion that the Malda unrest was stirred up as a cover to burn certain files kept in the Kaliachak police station; files related to the fake currency racket. The BJP claimed that the Malda violence was not a law and order issue but a matter threatening national security.
On January 2, the mob went on a rampage and set ablaze a number of vehicles and the Kaliachak police station. The violence has turned into a major flashpoint between the TMC and the BJP.
Apart from the Malda incident, Rajnath Singh also spoke about the efforts taken by the government to declassify files on Netaji Subhas Chandra Bose on his birthday on 23 January.
Bengal goes to poll in April-May. The BJP will be holding back-to-back rallies in the state. Nitin Gadkari is scheduled to hold a rally in Dinajpur instead of Malda. HRD minister Smriti Irani will conduct a rally at Bardhaman while BJP chief Amit Shah will hold a rally at Howrah on 25 January.