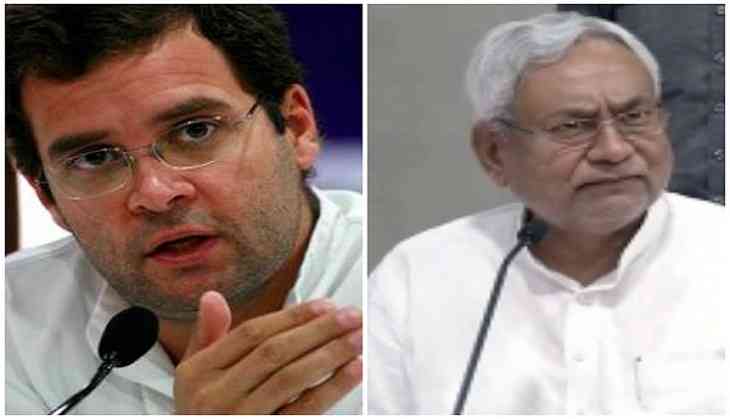 With Bihar Chief Minister Nitish Kumar meeting Congress vice-president Rahul Gandhi yesterday, the Bharatiya Janata Party (BJP) on Sunday downplayed the rendezvous saying no amount of meeting can help counter the 'Modi wave' sweeping the nation.
Speaking to ANI here, BJP leader Rahul Sinha said, "The Bharatiya Janata Party's recent victory in the presidential polls, by-elections reflects that the country is swinging with Prime Minister Modi's wave. So, it doesn't matter who is meeting whom."
Sinha further said that Nitish Kumar being a leader of independent party can meet any one or can join any other political party.
The Bihar Chief Minister met Congress vice-president Rahul Gandhi on Saturday, in the backdrop of clouds of uncertainty hovering over the ' mahagathbandhan' in Bihar.
Reportedly, Nitish Kumar will attend a dinner hosted by Prime Minister Narendra Modi for outgoing President Pranab Mukherjee in the national capital.
The meeting has taken place at a time when tension is brewing within the grand alliance in the state after corruption charges were filed against Rashtriya Janata Dal (RJD) supremo Lalu Prasad Yadav and his family members, including Bihar Deputy Chief Minister Tejashwi Yadav.
The situation saw an escalation after Nitish Kumar extended his support to National Democratic Alliance's (NDA) Presidential candidate and now elect Ram Nath Kovind.
The two leaders, reports say, discussed the charges against Tejashwi.
The Central Bureau of Investigation (CBI) has registered a corruption case against Lalu, his wife Rabri Devi, son Tejashwi; former Indian Railway Catering and Tourism
Corporation (IRCTC) Managing Director P.K. Goyal; and the wife of Lalu's confidante Prem Chand Gupta, Sujata on allegations of awarding the tender for development, maintenance and operation of hotels in Ranchi and Puri in 2006.
The CBI later questioned Rabri Devi and Tejashwi.
Lalu had earlier made it clear that his son Tejashwi Yadav, who is facing corruption charges, will not resign as Bihar Deputy Chief Minister.
Meanwhile, the Bharatiya Janata Party (BJP) has stressed that Tejashwi has only two options now- tender resignation or get sacked.
-ANI