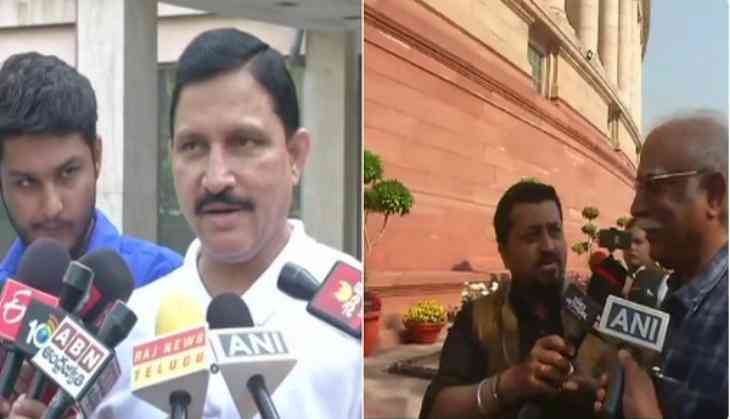 Union Minister of State for Science and Technology Y. S. Chowdary and Civil Aviation Minister Ashok Gajapathi Raju on Thursday will give a statement in Rajya Sabha and Lok Sabha in connection with the resignation of two Bharatiya Janata Party (BJP) ministers in Andhra Pradesh Government.
The two BJP ministers, State Health Minister Kamineni Srinivas and State endowment minister Pydikondala Manikyala Rao, reached the chief minister's office this morning in Amaravati and tendered their resignations.
"It is not a good move but unfortunately due to unavoidable circumstances, we're stepping down as ministers. Our President said that we will continue to be a partner of National Democratic Alliance (NDA). We are most likely to meet Prime Minister Narendra Modi also," Y. S. Chowdary told ANI.
Earlier in the day, Telugu Desam Party (TDP) MP Ram Mohan Naidu said, "It's the decision we took after Finance Minister Arun Jaitley's statement yesterday. When we're asking for our right it can't be rejected. Alliance is still under negotiation."
"We don't want to make it a political fight between TDP-BJP but a fight for the state," he added.
Yesterday, Jaitley, at a press conference, said the Centre was committed to offer the monetary equivalent of special status to the state, which will be presented as a 'special package', following which Chief Minister Chandrababu Naidu announced the decision that two of his ministers will pull out from the government.
Arun Jaitley said the special package that has been announced by the Centre is better than special status and there is no difference between the two. He said funds will be allotted according to the Finance Commission's recommendations, but not on the basis of regional sentiments.
Naidu took the decision after holding a meeting with party MLAs.
TDP leaders have been protesting in the Parliament after the Union Budget 2018 was presented in the House in February which disappointed them as Jaitley's speech neglected Andhra Pradesh.
--ANI