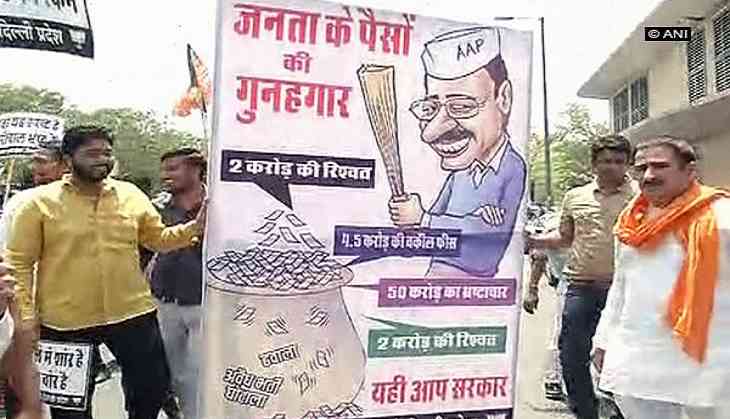 Upping the ante against Aam Aadmi Party (AAP) chief Arvind Kejriwal, the Youth wing of the Bharatiya Janata Party (BJP) staged protest outside the Delhi Chief Minister's residence demanding his resignation.
Denouncing Kejriwal and his governance the protestors carrying banners and placards with anti-AAP slogans, marched in front of his residence and demanded the Delhi chief to step down from the coveted post following allegations made by his cabinet minister Kapil Mishra.
"We here are demanding Kejriwal's resignation, owing to moral responsibility he should step down from the post of the chief minister," said a protesting worker.
The protest took an aggressive turn, as the protestors pushed the barricades in front of the Chief Minister's house and demonstrated belligerently, triggering the security forces deployed at his house to use water cannons to combat the situation.
Meanwhile, suspended Aam Aadmi Party (AAP) MLA Kapil Mishra handed over to the Central Bureau of Investigation (CBI) the documents in connection with the corruption charges he leveled against Kejriwal and other party leaders.
He further asked the AAP leaders, Satyendra Jain, Ashish Khetan, Raghav Chaddha, Sanjay Singh and Durgesh Pathak to put out the details of their foreign tours in public domain, while saying that he would sit on a hunger strike if they refuse to do so.
After being suspended from the party's primary membership, Mishra earlier in the day issued an open letter to Delhi Chief minister Arvind Kejriwal while challenging him to contest open elections.
He further said that he was sacked from the state cabinet minister post because he wrote a letter to the Anti Corruption Bureau (ACB).
Asserting that Kejriwal is planning to remove him as member of legislative assembly, he said the decision would not affect him, adding that he is ready give his resignation if needed.
Mishra will also slap Delhi Chief Minister Arvind Kejriwal with multiple FIRs today.
Venting out his ire against Kejriwal on social media, Mishra in a series of tweet had said that he would lodge multiple FIRs against him in different cases.
Mishra also said he is likely to file a third FIR against AAP leaders Satyendar Jain, Ashish Khetan, Raghav Chaddha, Sanjay Singh and Durgesh Pathak for using illegal money for foreign tours.
Earlier, the Political Affairs Committee (PAC) of the AAP suspended Mishra from the party's primary membership.
-ANI