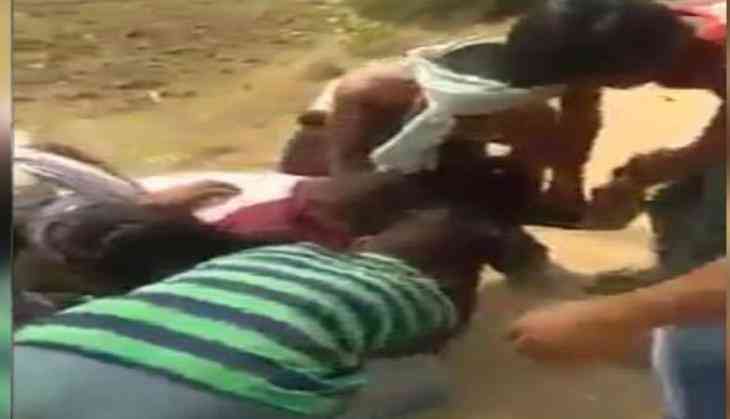 In a horrifying incident, a minor girl was brutally molested by a group of eight men in Bihar's Jeganabad. Group of eight youth dragged the girl and ripped off her clothes while she was begging for help. A Special Investigation Team (SIT) was formed by the Patna Zonal IG Nayyar Hasnain Khan to probe the case, were searching the group of molesters. In a major development, the SIT team have held four accused among the eight who molested the minor in Bihar's Jehnabad.
Among the group of attackers, one of the molesters shot the video and uploaded it to social media, that in no time went viral triggering nationwide outrages. The video shows how youth mercilessly molested her and undressed her as she screams and pleads them to leave her.
In the video, the girl is seen helplessly fighting the molesters and begging for her. While the men are undressing her she is seen pleading in front of them, saying 'nahi bhaiya..... nahi bhaiya...Kapde mat utaro.... chod do bhaiya.....kya tumhari koi bahan nahi hai'. While the molesters are heard laughing and jeering and seen ripping her clothes off.
The video went viral after which the Jehnabad police registered a complaint against the unidentified youths. A First Investigation Report has been registered against the accused under the stringent Protection of Children from Sexual Offences (POCSO) Act.
The report quoted SHO of Town police station SK Singh as saying, "The FIR has been lodged under Section 376 (rape) and 511 (punishment for offences punishable with life or other imprisonment) of the Indian Penal Code (IPC) and Section 8 (sexual assault) of the Protection of Children from Sexual Offences (POCSO) Act, 2012." Singh also noted that the faces of seven youths were visible in the video.
Most of the attackers are teenagers, police say. The cops are carrying out the door to door search operation and questioning the villagers to identify and snatch the rest of the attackers. The girl and her family are also being counselled, say police sources.
Also read: Bihar: Shocking! Eight men drag and rip minor girl's clothes; victim begs for help pleading, 'Kapde Mat Utaro'; video goes viral