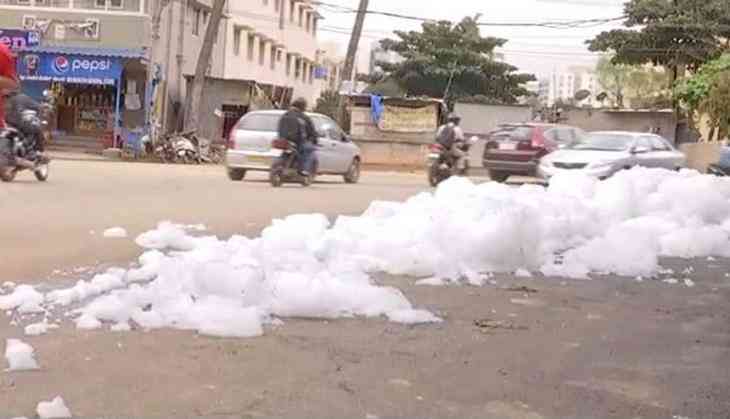 The Bellandur Lake in Bengaluru once again spilled toxic foam, on 17 August, which grew to such an extent that the residents have started complaining of foul smell and pollution.
"This foam problem has been there for a very long time. Due to heavy rain for past two days, the water level has increased and now the foam has overloaded the whole bridge. Because of this, it is difficult for commuters to drive on the road. The residents are also trying hard to solve this matter," a local resident Jitesh told ANI.
The commuters were not able drive due to the intense foam, giving them a tough time.
Locals also believe that this toxic foam would cause an epidemic in the area.
Highly-polluted Bellandur Lake, the largest of the 262 lakes and tanks in Bengaluru, has spilled toxic foam many times in the recent past and on several occasions the toxic foam also caught fire.
On 15 August, the lake spilled toxic foam after heavy overnight rain in the state.
The sorry state of the lake forced the National Green Tribunal (NGT) to take the matter suo motto.
On April 19, the NGT directed immediate and complete shutdown of 76 polluting industries around the lake after a mound of garbage was set on fire in February this year leading to massive pollution in the area.
The green court expressed displeasure over the steps taken by the different state government agencies for the revival of the Bellandur lake and asked the Karnataka Government to clean the lake within a month.
The NGT also raised questions as to why an action was not taken to block the entry of sewerage water despite repeated reminders from the State Pollution Control Board.
It further directed the state government to set up a committee headed by the Urban Development Department (UDD) to monitor the rejuvenation of the Bellandur lake.
On 18 May, the NGT directed the Karnataka State Pollution Control Board (KSPCB) to physically inspect the industries around Bellandur lake whether they are shut and not just issue closure notices.
-ANI