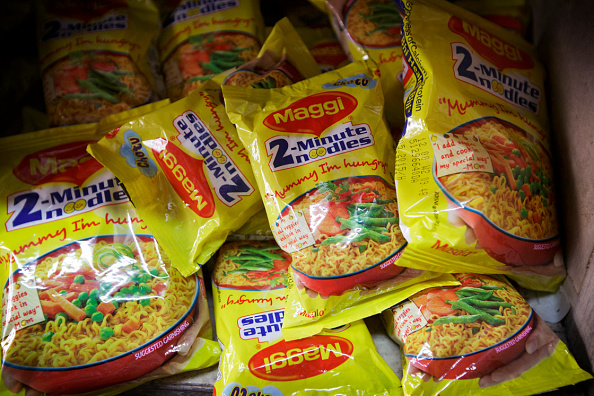 The ban on Maggi noodles has been extended for the third time time in a row for a month by the Gujarat Food and Drug Control Authority, as its manufacturer Nestle did not furnish any safety data for the product.
"We have extended ban (on Maggi) for one more month as the company (Nestle) has not furnished any safety data for that product (Maggi), as per the Food Safety Standard Act and the rules regulations thereunder," Gujarat Food and Drug Control Authority Commissioner H G Koshia told PTI, when asked about extension of ban on Maggi noodles.
"Once the report was given that the product (Maggi) was unsafe, we served notice to the company (Nestle) seeking their report on products as we found 28 samples unsafe in Gujarat," Koshia said.
"Till date the company (Nestle) is only furnishing their day-to-day recall saying by now they have recalled 471 tonnes of Maggi from Gujarat," he said.
"But that is not full compliance, they must establish safety of the product and they have failed to do so, that is why we have extended ban for one month," he said.
Yesterday, the FSSAI-approved laboratory of Central Food Technological Research Institute (CFTRI) found Maggi noodles to be in compliance with the country's food safety standards.
CFTRI had tested five samples sent by Goa Food and Drug Administration (FDA) when Maggi was banned in June, in the wake of findings in Uttar Pradesh and other states that the instant noodles brand had lead levels beyond permissible limits.
The CFTRI findings showed that samples of Maggi noodles were in compliance with the Food Safety and Standards Rules, 2011.
When asked about the FSSAI-approved lab's finding which found Maggi noodles in compliance with the food safety standards, Koshia said, "We do not have any communication from FSSAI nor from the company."
"If the FSSAI has given clean chit to the company they should have submitted the report to the authorities," he said.
Koshia further said that they found around 40 per cent samples of Maggi noodles unsafe as it had the lead levels beyond permissible limits.
He said Gujarat Food and Drug Control Authority had found 28 samples out of 66 collected from across the state unsafe and hence, they continued with the ban.
The Gujarat government had banned the sale of Maggi for a month in June after lead and monosodium glutamate levels in the noodles were found to be above the prescribed limits. Later in July, the ban was extended for another month.
-PTI