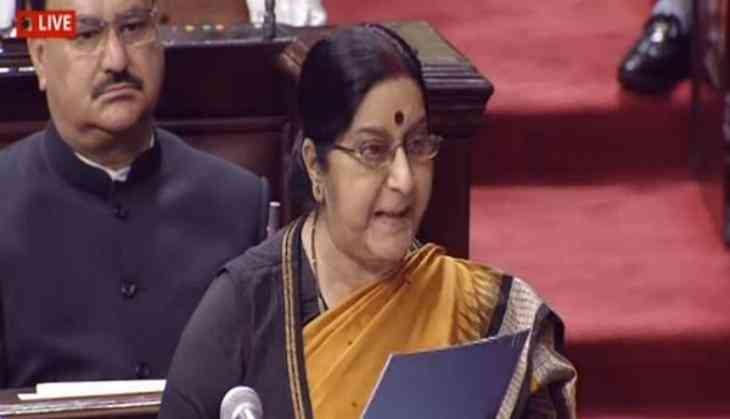 Emotions were at an all-time high in Rajya Sabha, as External Affairs Minister Sushma Swaraj delivered her statement on the details of Kulbhushan Jadhav's meeting with his mother and wife.
As per Swaraj, Jadhav was appalled on seeing his mother without her 'mangal sutra' and vermillion, so much so that it compelled him to think of the unfortunate with regards to his father.
"Not just his wife, but the bindi and mangal sutra of his mother were also removed. When I spoke to her, she told me that as soon as she reached, Kulbhushan asked her 'Baba kaise hain?' (How is father?), because he thought a mishap had taken place when he wasn't around," Sushma said.
Describing the meeting, which Sushma claimed, was "propaganda by Pakistan", she said a fear of environment was created for Jadhav's kin, who were both "made to look like widows."
"Jadhav Ji's mother, who only wears a saree, was forced to wear salwar-kurta. Bindi, bangles and mangalsutras of both women were removed. Both the married women were made to like widows," she said.
The environment, Sushma stated, was curated in such a way that Jadhav was not even permitted to communicate in his mother tongue (Marathi), as the officials constantly interrupted his mother when she did so.
"Kulbhushan Jadhav's mother was not allowed to speak in Marathi. Two Pakistani officials present in the meeting kept stopping her repeatedly, and when she continued, the intercom was switched off," said an emotionally-charged Sushma.
Meanwhile, leader of the Opposition of Rajya Sabha, Ghulam Nabi Azad condemned Pakistan's "misbehavior" as one targeted towards Indians on the whole, and not just Jadhav and his family.
"Misbehaviour of Pakistan with the wife and mother of Kulbhushan Jadhav was misbehaviour with all Indians. Regardless of political differences, when it comes to nation's dignity and another country misbehaves with our mothers and sisters, it will not be tolerated," he said in Rajya Sabha today.
-ANI