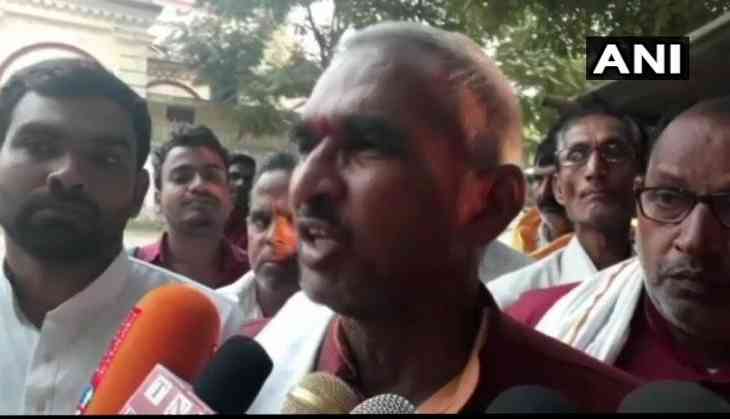 BJP MLA Surendra Singh has criticized his own master, the chief minister Yogiadityanath and PM Narendra Modi, for not able to construct Ram Mandir.
The leader has said that the Bhartiya Janta Party has been at the center since last 4 years and Yogi Adityanath has helmed the post of the CM of Uttar Pradesh, but still the party has not been able to build the "auspicious" Ram Mandir in Ayodhya.
Addressing the media, Surendra said, "We have a great Prime Minister like Modi Ji and a great Chief Minister like Yogi Ji, who are both believers of Hinduism. But unfortunately, during their governance, Lord Ram stays in a tent. This is unfortunate for India and the Hindu society. One should make such a situation that Ram temple must be created in Ayodhya itself."
The BJP MLA has stressed on the fact that this can be a major factor the upcoming polls and hence, it is required for the betterment of the nation that the temple is built.
"There should be no more delay in the construction of the temple," said the BJP leader, adding that "God is beyond the Constitution. There should be no delay. Ram Temple should be constructed in its designated place Ayodhya."
The deputy CM of Uttar Pradesh, Dinesh Sharma has said on November 12 that, "the BJP has explained its stand on Ram temple in its Sankalp patra. Every work is done by God," adding, "the sooner the benevolence of Lord Ram showers, the work (constructing the temple) will be accomplished. When Lord Ram wants, he will become the kaarak (factor) and kaaran (reason)," as reported by NDTV.
Also read: Sabarimala Temple row: BJP leader K Surendran says, 'You can't stop us,' after police detains him under
Modi ji jaisa mahan PM ho wo bhi hinduvadi aur Yogi ji jaisa mahan hinduvadi neta CM ho, uss samay bhi Bhagwan Ram tent mein rahen, isse bada durbhagya Bharat aur Hindu samaj ke liye nahi hone wala. Aisi paristhiti banai jaani chahiye ki Ram mandir Ayodhya mein bane: S Singh,BJP pic.twitter.com/Nmq2UN5ijo

— ANI UP (@ANINewsUP) November 17, 2018
Naya vidheyak lakar ke...savidhan se bada Bhagwan hota hai. Vidhayak hote huye bhi hum spasht roop se kehe hain ki Bhagwan samvidhan se pare ki cheez hai, aastha ki cheez hai. Uspe tanik bhi vilamb nahi hona chahiye, Bhagwan Ram ka mandir ban'na chahiye: Surendra Singh,BJP(17.11) pic.twitter.com/AqIY3lGm0V

— ANI UP (@ANINewsUP) November 17, 2018