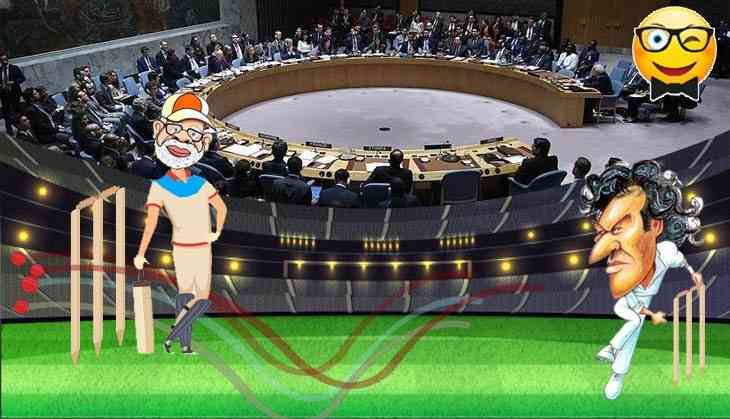 Modi Imran cricket (Catch News)
Pakistan Prime Minister Imran Khan was well known for his ferocious bowling attack when he played for the Pakistan team. Even though he made the Indian side extremely uncomfortable whenever he came to bowl, Imran Khan was widely respected in India for his bowling skills. But after hanging his boots, this cricket legend decided to wear a different hat and decided to play his second innings on the political pitch. But his recent behaviour and latest speech at United Nations Security Council only prove that Imran Khan is somehow no match for Indian Prime Minister Narendra Modi. Imran Khan seems to have completely forgotten the art of gentleman's game. Now he talks about war, bloodbath, nuclear war, hate, radicalisation and all other stuff that is not a gentleman like conduct.
Imran exhausted, Modi smiling
Imran Khan raised the issue of Jammu and Kashmir, Article 370, RSS and questioned Narendra Modi, but neither the length nor the line of his attacks made India uncomfortable. Although PM Modi is not a cricketer but he has deployed a great batting technique: If the ball is not in the line of the wicket, it is better to ignore it.
This is because Modi knows Pakistan's dismal track record when it comes to safeguarding interests of minorities and protecting the human rights of the civilians.
Pakistan has attained the dubious distinction of being home to some of the dreaded terrorists and terror organisations. Instead of acting against them, Pakistan is still fighting hard to protect them and this is being noticed by the world. In cricket, you should be bowling to your strengths, but here Imran is actually highlighting the weakness of his country. The world still remembers Kargil war, Mumbai attacks, Uri attack, Pathankot attack and Pulwama attack. Still, Imran Khan thinks he is on a strong pitch when it comes to fighting terror.
Imran needs to identify the real targets
Imran Khan should learn from the snub that he got from the world leaders and take serious steps to destroy the terror outfits which have brought disrepute to his country and its people.
Need to play it right
Politics may have the reputation of being a 'dirty-game' but those who played the 'gentleman's game' should try to uplift the bar. Sadly, Imran is doing just the opposite.
As they say in sports: Better luck next time Imran Khan!