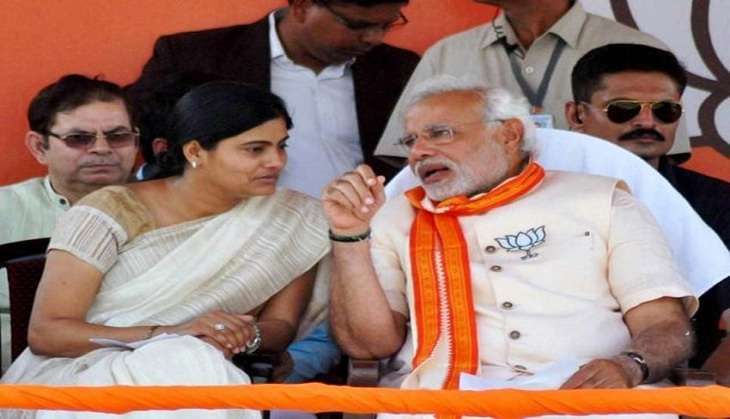 Anupriya Patel's induction into Prime Minister Narendra Modi's council of ministers has strained ties between Apna Dal and the Bharatiya Janata Party. The party, an ally of the BJP, decided to part ways with the BJP, accusing them of not following the "decorum of alliance".
The party is led by Anupriya Patel's mother Krishna Patel, from where she was expelled last year following a family feud.
"The national executive of Apna Dal has decided to snap ties with BJP as it did not follow the decorum of alliance," said party spokesman RBS Patel. "Despite informing it about the activities of Anupriya, who was expelled, the BJP leaders did not take congnisance of it and did not act."
A meeting of Apna Dal was held in Lucknow, during which Krishna Patel announced the decision. "We will contest 2017 Assembly elections in Uttar Pradesh and we are going to hold a rally in Varanasi on August 21," she added.
Founded in 1995 by Sone Lal Patel, Apna Dal rose to prominence in the 2014 parliamentary elections by aligning with BJP and winning its first two Lok Sabha seats - Mirzapur and Pratapgarh. The party and its support base among Kurmis is essential to the BJP for capturing power in next year's assembly elections in Uttar Pradesh.
After Sone Lal's death in 2009, Krishna Patel was made president of the party and his younger daughter Anupriya Patel, its general secretary. But the mother and daughter soon fell out, fighting bitterly for the control of the party.
Krishna Patel had suspended her daughter for six years for "anti-party activities" and stripped her of all posts and later, went on to expel her.
Anupriya Patel, who had won the 2012 assembly election from Varanasi's Rohaniya seat, vacated it after getting elected to the Lok Sabha two years later.
After her expulsion, Anupriya Patel's supporters claimed she was the one representing the party and Krishna Patel had no right to expel her. The other Apna Dal member in the Lok Sabha, Haribansh Singh, is loyal to Krishna Patel.
--PTI