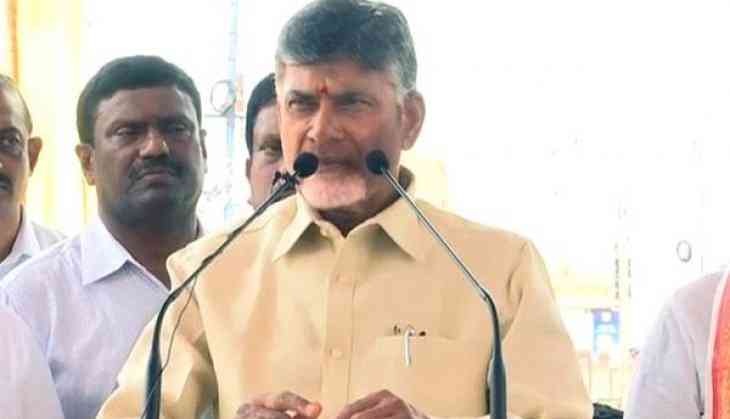 Andhara Pradesh Chief Minister Chandrababu Naidu on Friday condemned the killing of Telugu Desam Party (TDP) Member of Legislative Assembly Sarveswara Rao and TDP leader Siveri Soma.
"I condemn the killings by Maoists. There is no place for violence in a democracy. They are efficient leaders from the tribal region. They worked sincerely. Siveri Soma doesn't have even own house. Sarveswara Rao was also a simpleton. Both of them always thought of development of tribals," he told media here.

The Andhra Pradesh Chief Minister also announced financial aid to the bereaved families of both the leaders.
"The government will give financial aid of Rs 1 crore to Sarveswara Rao's family, a house plot in Visakhapatnam, one Government job to one of the family members and a financial aid of Rs 10 lakh each to six family members of Siveri Soma, and house plot in Visakhapatnam. On behalf of TDP, Rs 5 lakhs each will be given to seven family members of Siveri Soma and four members of Kidari Sarveswara Rao family," he added.
Terming the killings as a one-off incident in an otherwise balanced state, in terms of law and order, Naidu said that in due course of time, all necessary steps would be taken.
Launching an attack on Prime Minister Narendra Modi and the state faction of the Bharatiya Janata Party (BJP), Naidu called out to the unwarranted criticism and said: "The Prime Minister has gone to many countries. What has he achieved? What recognition did he bring to the country? What has the Centre achieved in Digital India? BJP leaders in Andhra Pradesh are criticising us unnecessarily. My strength is my credibility. BJP colluded with YSRCP and slinging mud on me. Narendra Modi lost all his credibility. BJP is attacking me as I asked for special status and bifurcation promises made to the state. BJP leaders are alleging corruption only out of jealousy."
"Andhra Pradesh is bagging all awards at national level. The government of India is compelled to give all awards to Andhra Pradesh only. Be it NREGA, Municipal Administration, Panchayat Raj, housing, Swacch Andhra Pradesh, tourism, ease of doing business and many more. Our efforts are yielding good results. No other state in India achieved a 10.5 per cent growth rate," he added.
Naidu, who recently visited the United States, said roundtable meetings and conferences were organised to discuss measures adopted by the state government.
He also said that two memoranda of understanding (MoUs) were signed during his visit- one between the Andhra Pradesh Economic Development Board and Triton Solar Company for manufacturing solar batteries, and another with Deep Water Exploration and Research to exploit mineral wealth in the seas.
-ANI