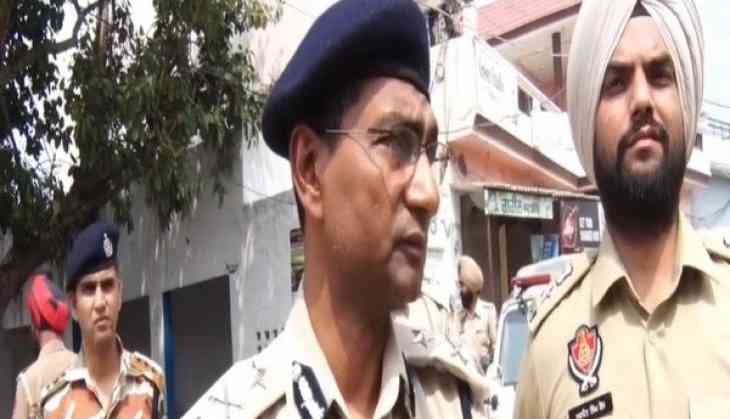 Despite imposition of Section 144 in several districts of Punjab, officials of the Ludhiana Rural Police on Sunday detained 15 persons, accused of agitating in support of the 'Waris Punjab De' chief Amritpal Singh, who is on the run.
"A total of 15 persons have been detained from Boparai Kalan village for violating Section 144. All the people attempted to stage a protest in support of Amritpal Singh," Inspector General (IG), Ludhiana Range, Kastubh Sharma said.
He said that a group of religious organizations were denied permission to stage a protest here, but today again they attempted to agitate despite an order regarding the prohibition of assembly, Section 144, having been enforced.
Action will be taken further in the matter, the police officer said, adding that the uniformed personnel are staging a flag march in the district. Earlier in the day, the suspension of mobile internet and SMS services, in the territorial jurisdiction of Punjab, was extended till Monday noon.
Punjab Police on Saturday launched an operation against Amritpal Singh and his aides. Police later, while stating that 78 persons were arrested in operation and several were detained for questioning, said that the Waris Punjab De chief Amritpal Singh was still on the run and a massive manhunt was launched to nab him.
Previously the central agency sources informed that Daljeet Singh Kalsi alias Sarabjeet Singh Kalsi, who is an alleged advisor and financer of Amritpal Singh, was arrested by the authorities on Sunday. Meanwhile, a heavy police force has been deployed outside Amritpal Singh's residence in Jallupur Khera village in Amritsar. Security has also been enhanced across the state, as per the police.
Jalandhar Commissioner Kuldeep Singh Chahal, on Saturday late evening, confirmed that the radical leader had been declared a "fugitive". The police action came almost over three weeks after Amritpal's supporters clashed with uniformed personnel at the Ajnala police station on the outskirts of Amritsar last month, demanding the release of one of Amritpal's close aides, Lovepreet Toofan.On February 23, thousands of his supporters stormed the Ajnala police station, flashing swords and high-calibre firearms and threatening the police with dire consequences if they did not release Lovepreet Toofan, who was arrested for allegedly assaulting and abducting a man.
Also Read: Amit Shah to visit Bihar on April 2 for birth anniversary event of Emperor Ashoka