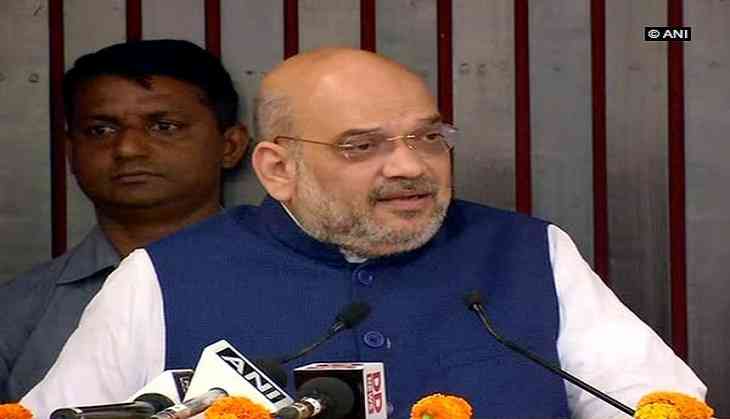 Bhartiya Janata Party (BJP) president Amit Shah on Saturday highlighted the major steps undertaken by his government in order to ease the lives of farmers reeling under agrarian crisis.
Shah, who participated in a seminar on the subject 'Reforming Agrarian Economy - Role of Insurance' at New Delhi's India International Centre, said, "With the implementation of Pradhan Mantri Krishi Sinchayee Yojana, the majority of the farmers of India are now able to irrigate their lands and are also getting an end to end solution on source creation, distribution, management, field application and extension activities."
He further claimed that earlier in India only one-third of the farm lands used to get water for growing crops but after the implementation of this scheme, states like Gujarat, Maharashtra have recorded an increased percentage of crop growth.
"As per the latest report, Gujarat has topped the list in having the less percentage of the dark zone in the state. Not only that, because of this scheme, farmers are now changing their cropping pattern and also the concept of lab to land has emerged," he added.
He also noted that India is lagging behind in developing the agricultural sector even after 70 years of independence due to political self-interests.
"Though in the last 10-15 years, the constructive steps have been taken by the ruling governments because of which the contribution of the agricultural sector in GDP has risen to 15 percent but it will take a couple of more years to developed the sector on a full scale," he added.
He also stressed upon the fact that due to rolling-out new schemes and plans, the GDP's of Maharashtra and Gujarat has now reached in double-figures which was once a distant dream for India.
On the issue of crop insurance, Shah said that under Pradhan Mantri Fasal Bima Yojana (PMFBY), scores of farmers across the country have got insurance on the crops so that they can be stress-free while planting the seeds.
"Bank use to give insurance on the loans taken by the farmers but after getting themselves registered under PMFBY, they no more have to worry about the spoiled crops due to a heavy downpour or natural disaster. The Prime Minister has also appointed a special committee for resolving the blockades under the new scheme in order to make it a success," he added.
Since 2014, the Centre has introduced programmes like Blue Revolution, Green Revolution and has also subsidised natural fertilizer in order to improve the land fertile in India, Shah noted.
In his concluding remark, the BJP president said that the government will make all efforts in order to achieve its goal of providing double income to farmers by 2022.
"We have a vision of making farmers capable of earning dual income till 2022. If the sector will become prosperous automatically its share in the economy will increase from 15 percent to 30 percent in the not so distant future," he said.
(ANI)