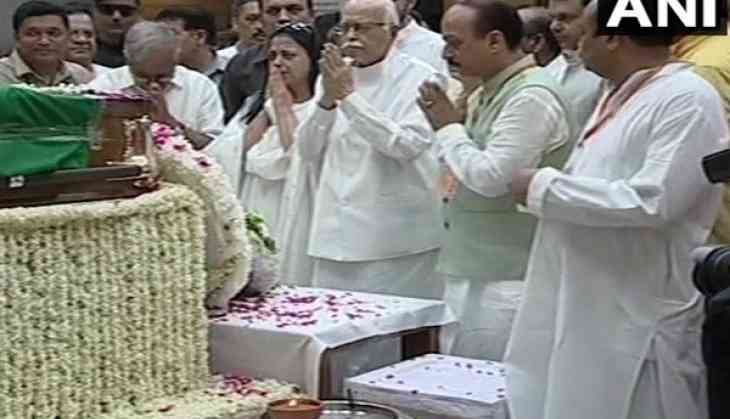 Veteran Bharatiya Janata Party (BJP) leader Lal Krishna Advani paid his final tribute to "closest friend for over 65 years" Atal Bihari Vajpayee on Friday at BJP headquarters at Pandit Deen Dayal Upadhyay Marg.
The mortal remains of former Prime Minister Atal Bihari Vajpayee reached the BJP headquarters earlier this morning on a decorated gun carriage.
Along the seven-kilometer stretch from Vajpayee's reisdence at Krishna Menon Marg to the BJP office, people in large number joined the procession to get a last glimpse of their leader.
Expressing his grief over the incident, Advani yesterday shared, "To me, Atalji was more than a senior colleague- in fact, he was my closest friend for over 65 years."
Advani further said that the former Prime Minister guided him throughout his life adding, "Atalji will be remembered as the pioneer of the first ever stable non-Congress coalition government at the Centre and I had the privilege of working as his deputy for six years."
Recollecting his old days as 'Rashtriya Swayamevak Sangh (RSS) pracharak', Advani said that his association with Vajpayee has seen days from the birth of BJP to 'dark months of Emergency' leading to ' the formation of Janata Party and later the emergence of the Bharatiya Janata Party in 1980.'
The senior BJP leader said, "His captivating leadership qualities, mesmerising oratory, soaring patriotism and above all, his sterling humane qualities like compassion, humility and his remarkable ability to win over adversaries despite ideological differences have all had a profound effect on me in all my years in public life. I will miss Atalji immensely."
--ANI