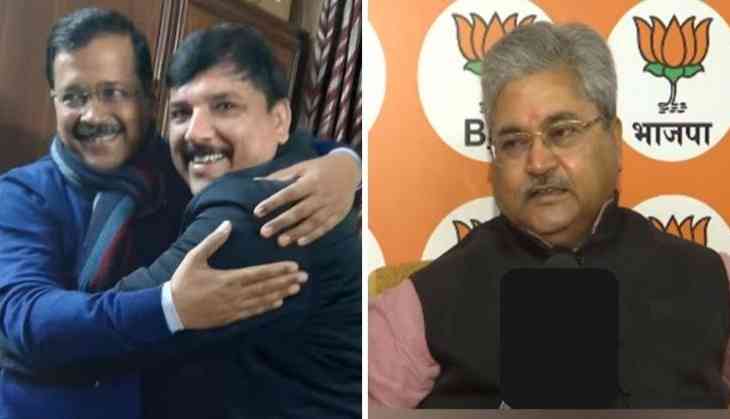 'AAP immersed in corruption' says BJP (File)
New Delhi: Questioning the Arvind Kejriwal government in Delhi amidst ED raids on Aam Aadmi Party (AAP) leader Sanjay Singh's residence, BJP leader Dushyant Gautam said that the party has become so immersed in corruption that they are offering one bottle of liquor, free with the other one.
"They have done the work of fooling people. They had come to lead ordinary lives but now they are being immersed in corruption to such an extent that they are giving one bottle (of liquor) free with another," Dushyant Gautam said speaking to ANI on Wednesday.
Gautam charged that the now-scrapped Delhi liquor policy was drafted at Delhi Chief Minister Arvind Kejriwal's residence itself.
"The liquor scam was worth crores, drafted at the residence of the Chief Minister himself. Now government witnesses and the accused are revealing secrets about him. What is their hunger about?" Gautam added.
Reacting to the raids at Sanjay Singh's residence, Congress leader Pramod Tiwari accused the central government of its "dictatorial" tactics and of creating an atmosphere of coercion against opposition leaders.
"This (BJP) government is adopting a dictatorial attitude and creating an atmosphere of coercion, repression, fear and terror against leaders from the opposition, especially the INDIA alliance," Tiwari said speaking to ANI.
"The way the raids are being conducted at Sanjay Singh's residence is condemnable. They should bring forth credible evidence that points to him before the public. He could have been called through summon, through court. Harassing Parliamentarians like Sanjay Singh is condemnable," he added.
Meanwhile, BJP workers held a protest outside the AAP office in Delhi demanding the resignation of Delhi Chief Minister Arvind Kejriwal. The Enforcement Directorate (ED) is conducting raids at AAP MP Sanjay Singh's residence in connection with the Delhi excise policy-linked money laundering case.
(ANI)