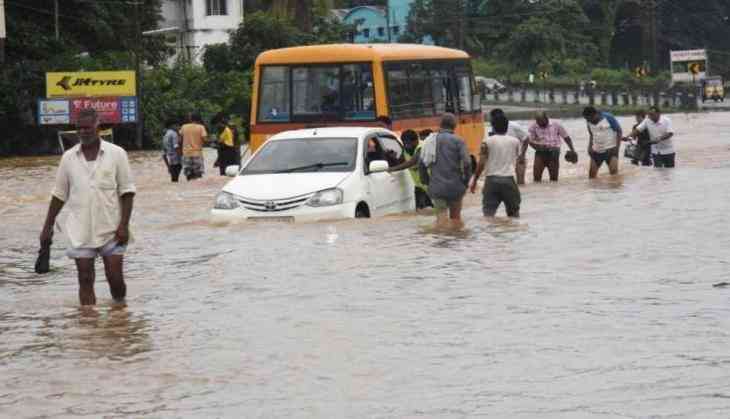 The death toll in Kerala floods has touched 265 since August 8 while 36 people are still missing, the latest government figures show, even as the state prepares to mount a massive rehabilitation process for the displaced.
The hilly district of Idukki, housing the largest arch dam in Asia from which waters were released for the first time in 26 years, has been hit the hardest -- 51 deaths and 10 still missing, as per the latest figures released by the Disaster Management State Control Room.
The district, home to tea and spices plantations, is also a favourite tourist destination.
According to the latest toll figures released by the government, 265 people have lost their lives in the floods since August 8, when a second spell of monsoon fury unleashed.
Thrissur has reported 43 deaths, Ernakulam (38), Alapuzha (34) and Malappuram (30).
With over 8.69 lakh people still in 2,287 relief camps, it is a subdued 'Onam', the harvest festival, in the state.
However, despite the massive setback, many people who, have lost their homes and all their belongings, marked the occasion, though it was low key.
For some who returned to their homes, cleaning up their dwellings was the uppermost in their mind.
Ten year-old Nandana was busy drying her books in front of her home in Kochi. "There is no floral carpet in my home," she said.
While in another camp, children gathered together, made new friends and played football and cricket in an effort to take their mind off the trauma.
A government release issued late last night said the flood-hit areas would be recorded using a mobile app, with the help of voluntary organisations and local bodies and compensation would be distributed after this process.
A total of Rs 10,000 each would be transferred to the bank accounts of 3.91 lakh families affected by the flood and Rs 242.73 crore has been earmarked from the Chief Minister's Disaster Relief fund (CMDRF) for the purpose, the release said.
Plans are also afoot to retrieve certificates and lost documents of the flood-affected people from the database of various departments in the state, it said.
The information technology and other departments were in the process of developing a software for the purpose. Adalats would also be held from the first week of September to facilitate recovery of the documents, according to the release.
With the government emphasising sanitation activities to prevent outbreak of water-related diseases in flood-affected areas, a total of 1.31 lakh houses, about 31 per cent of total flood-hit buildings, have so far been cleaned.
The state government was also mulling interest-free loans of up to Rs 10 lakh for the flood-affected small scale industries.
Earlier, a moratorium was declared for agriculture loans by the government.
(PTI)