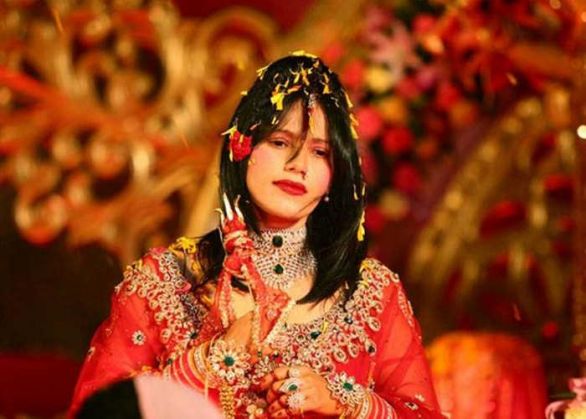 Godwoman Radhe Maa has been charged with obscenity; accused of dancing lasciviously to Bollywood numbers, hugging and kissing her followers, and inciting people to harass a bride for dowry.
But who is this person anyway? Where did she come from? What does she do? Here are 13 facts that you might have been missed out
1. Before becoming Radhe Maa, she was Sukhwinder Kaur of Mukerian town in Hoshiarpur, Punjab. She was 17 when she married Mohan Singh of Mukerian in the mid-1980s.
2. As a teenager, she made clothes to back up the earnings of her husband, who worked in a sweetshop owned by his brother.
3. Her father, Ajit Singh, who died last year, worked with the Punjab State Electricity Board. She is one of two brothers and three sisters.
4. According to her neighbours in Gurdaspur, she showed no sign of religious inclinations in her early life.
5. Her religious pursuits began after her husband went to the Middle East to work as a labourer. According to her relatives, she started visiting the local Paramhans Dera and participating in satsangs. As her reputation grew, she was invited to people's homes for satsangs, and started dressing as a goddess.
7. According to locals in Gurdaspur, Sukhwinder Kaur's aides and followers began calling her Radhe Maa sometime in the 1990s.
8. In the early 2000s, after a dispute in Phagwara where religious leaders warned her about playing a goddess, she shifted to Delhi. In 2003, she shifted from Delhi to Mumbai.
9. Her palatial home in Borivali, Mumbai, is named 'Radhe Maa Bhawan'. The bungalow reportedly belongs to Sanjeev Gupta, a businessman and close follower of the godwoman, who asked her to stay in the mansion after her arrival in Mumbai. Sanjeev Gupta's family owns Global Advertiser, which puts up hoardings, and he uses these to promote the divya darshan as well.
10. Every fortnight, the mansion hosts mata ki chowki, jagaran and satsang. Celebs like Subhash Ghai and Gajendra Chauhan can be spotted at these religious gatherings.
11. A trust in her name organises charity events, blood camps and an annual divya darshan on open grounds, drawing thousands of followers.
12. Radhe Maa also has a number of followers in Mukerian, Punjab. According to locals, she visits wearing sarees worth lakhs of Rupees. Followers also claim that Radhe Maa wears pieces of jewellery for a few occasions, and then gives them away, usually to needy brides.
13. Dwarkapeeth Shankaracharya Swami Swarupanand banned Radhe Maa from the Kumbh Mela. According to Mahant Gayandas, president of the Akhil Bharatiya Akhada Parishad, "The entry of pretenders among sadhus and mahants should be restricted. This is the reason why Radhe Maa and Sachchidananda, a disco bar owner turned baba, have been banned from the shahi snan at the Mahakumbh."
You can read more about her in The Indian Express report.