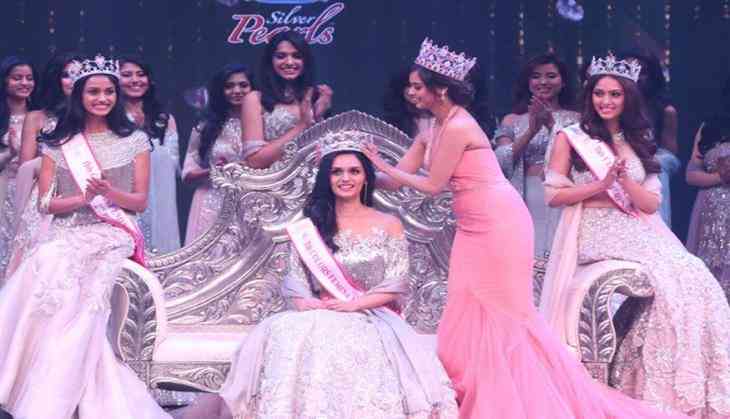 She comes from Haryana, is all of 20, is studying medicine and has just won the Miss India World 2017 crown. Manushi Chhillar is focused on winning the Miss World title for India, but her life's mission, she says, is also to spread awareness about menstrual hygiene through her initiative Project Shakti.
"The poor menstrual management in our country and across the world has always bothered me as a person...That's one cause that I will take forward with me," Manushi told IANS over phone from Mumbai, while talking about the social responsibility that comes with the Miss India crown.
"I feel it is a very basic factor that is inculcated in every woman. I started a project called Project Shakti and through that I educated women about menstrual hygiene as that's one cause I really feel for."
Manushi was announced winner at the 54th Femina Miss India World 2017 held at Yash Raj Studios in Mumbai on Sunday night. The first runner-up was Sana Dua from Jammu and Kashmir and the second runner-up was Priyanka Kumari from Bihar.
She studied in St. Thomas School in Delhi and Bhagat Phool Singh Government Medical College for Women in Sonepat.
With dancing, singing, poetry writing and painting as her favourite interests, Manushi believes in just one motto: "The sky is the limit. We are limitless and so are our dreams, we must never doubt ourselves."
This is the thought her parents brought her up with in Haryana, which had the worst sex ratio among states in the 2011 Census.
She says she was born blessed.
"I was blessed because I never had to sit my parents down and tell them what I wanted to do. They were observant. They always knew what I wanted. Since childhood, they used to say that 'Sky is the limit, have the courage to pursue your dreams'. It just happened to me, I never felt in any way that I couldn't do it... So, that worked out well with me," she said.
The world of modelling is new to her family.
"I come from a family where people believe in education and they don't really step out into any big entertainment related industry or beauty pageants. I am the first one from my family and friends to step into the world," said the young beauty, who belongs to a family of doctors.
"Even I am pursuing medicine myself and my sister is an advocate. My younger brother is still studying in school," said Manushi, who is open to Bollywood too if an opportunity arises.
Currently her only focus is competing at the Miss World pageant -- a title no Indian has won since Priyanka Chopra brought back the crown in 2000. Other Indians who won the title in the past include Reita Faria (1966), Aishwarya Rai (1994), Diana Hayden (1997) and Yukta Mookhey (1999).
Talking about her inspiration in life, she said she is motivated by Miss World 1966 Reita Faria.
"She is not only the first Indian to represent the country in Miss World, but also won it. The best part about her is that she followed her passion. The moment she was done with her duties as Miss World, she went into education as she was passionate about becoming a doctor," said Manushi.
Is that her plan too?
"Well, I would definitely complete my education but as of now my focus is representing the country internationally."
Manushi, born to doctor parents, is enrolled as a student of medicine in the all-women Bhagat Phool Singh (BPS) Government Medical College for Women at Khanpur Kalan in Sonepat district of Haryana, around 90 km from New Delhi.
She enrolled for the MBBS course in 2015 and took the first professional examination in July 2016.
-IANS