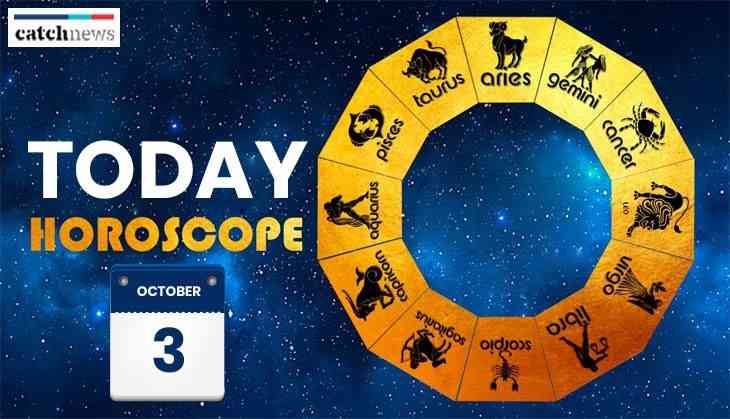 Looking for a new prediction for a new day? Begin your morning with some positive thoughts, energy, and upcoming challenges that will bring you close to your destiny, dreams. If you believe in supernatural power or astrology then you are at the right platform to know how your day will be?
Check what your zodiac sign says today:
1. Aries (Mar 21- Apr 20)
Today Aries will be going to feel out of the world because of something unexpected thing that will bring joy to their boring life. Before this Navratri over, Durga Maa's blessings will make your life easy and will remove the hurdles which have become a barrier for long.
Luck support- 75%
2. TAURUS (Apr 21- May 21)
It's time to take some major decisions for yourself. If you want to live your life as you want then, this is the right time when you can put your thoughts in front of your family members.
Luck support: 79%
3. GEMINI (May 22- June 21)
Fulfill your commitment that you have made with others. Your past could become a trouble for your future. So, if you have any secrets just reveal to your partner without wasting your time.
Luck support: 69%
4. CANCER (June 22 – July 23)
Today you will face some difficulties in your path. So, don't make any major or important decisions. Take care of your health. Try to avoid oily food today.
Luck support: 60%
5. LEO (July 24 – Aug. 23)
Today your stomach will remain upset because of your daily routine. Try to avoid the outing with your friends and stay inside your home only. For office goers, don't forget to take your homemade food.
Luck support: 65%
6. VIRGO (Aug. 24 – Sept. 23)
You are a reservoir of wonderful ideas that will make you a hero in a minute at your workplace. So, try to find out your hidden talent. You just need to find your potential that could help you in winning the race.
Luck support: 85%
7. LIBRA (Sept 24 – Oct 23)
Today you will feel dull because of your fear and negative thoughts for your future. Start believing yourself instead of believing others. You need to start some exercise, meditation which could make you focus on your goals and objectives in your life.
Luck Support: 60%
8. SCORPIO (Oct. 24 – Nov. 22)
This Thursday, you will be surrounded by miscellaneous feelings. Try not to start a new thing from today, as the ball is not in your court for some days.
Luck Support: 71%
9. SAGITTARIUS (Nov. 23 – Dec. 22)
A short business trip is calling you. So, get your bags ready for an unplanned trip. Your genre will surely make you realize today that you are made for it only. So, respect your job and what you are doing till now.
Luck support: 80%
10. CAPRICORN (Dec. 23 – Jan. 20)
Today, you may be a victim of mood swings. So, don't involve any arguments because your words could change the situation in a second.
Luck Support: 61%
11. AQUARIUS (Jan. 21 – Feb. 19)
Today is your busiest day of the week. You may also fall in some difficult situation. Your one wrong decision could land you in trouble.
Luck support: 65%
12. PISCES (Feb. 20 – Mar 20)
You may feel, some divine power around you. Also, your family members are planning to give you some surprise to make you feel special.
Luck support: 83%
Also Read: This Navratri, Indian Railways offers scrumptious 'vrat ka khana'