Don't we all love Holi? It is the one Indian festival which does not require you to be on your best behavior or for that matter, be well dressed. Instead, Holi calls for you to leave your inhibitions behind and indulge in a celebration with colours. It is the perfect time to connect with your family and friends.
If your Holi celebrations include crazy parties then rejoice as some cool Holi parties are being lined up across India.
Here are the biggest Holi-themed parties in all the metros:
1. Delhi:
Holi Moo Festival
Date: 24 March 2016
Venue: Holi Cow Barn, Rajokri Road
The first out-and-out music festival dedicated to Holi, the Holi Moo! Festival will have music from folk, Indian Rock, and EDM genres.
Rang Festival
Date: 24 March 2016
Venue: 32nd Milestone, Gurgaon
The 8th edition of Rang Festival is all about celebrating Holi in the most conventional manner and will have EDM artists from Spain, Germany and Hungary playing sets.
Rangeela Re
Date: 24 March 2016
Venue: Oysters Water Park
Oysters Water Park in Gurgaon has a pool-side Holi party lined up along with rain dance.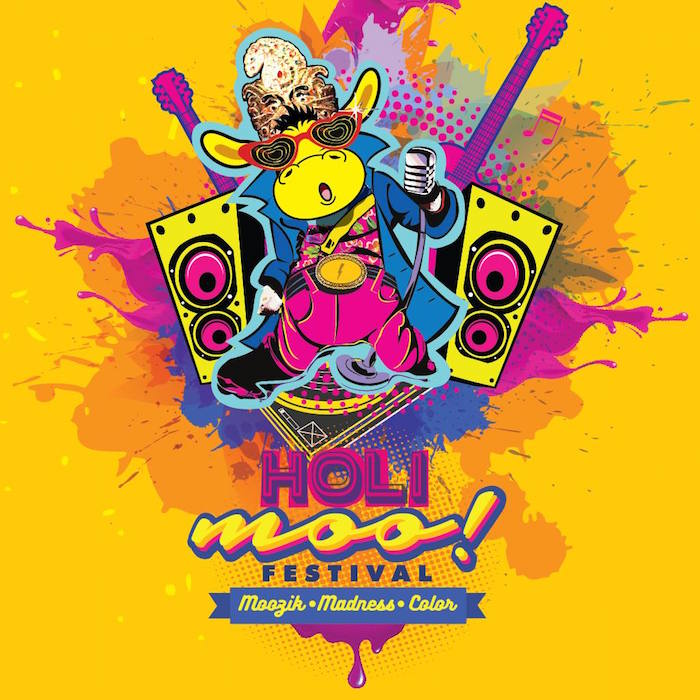 2. Bangalore:
Rang Munch 2016
Date: 23 & 24 March.
Venue: Pebble - The Jungle Lounge, Bengaluru.
Here, you can expect rain dance, live dhol, Bollywood music and great food.
Connect 2016
Date: 24 March 2016
Venue: Aqua, The Park Hotel, Mg Road, Bengaluru
Their food counter includes some very interesting items: thandai shots and vodka panipuri.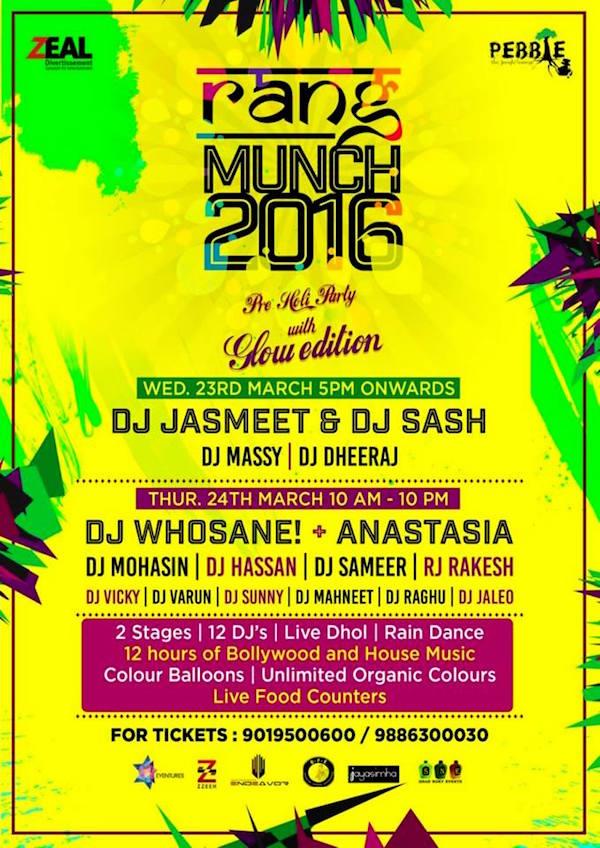 3. Kolkata:
Aqua Holi 2016
Date: 24 March 2016
Venue: Rajarhat
The biggest attraction here would definitely be Prince Narula of Bigg Boss 9 fame who is scheduled to host the event.
4. Mumbai:
Holi invasion
Date: 24 Mar 2016
Venue: JVPD Grounds, Devle Road, Juhu
Mr Right, Elektrovertz, Assad Namazi, D Mani and Summaya, and Reeshav are expected to play alongside DJ Chetas on the decks.
Color Splatter 2016
Date: 24 March 2016
Venue: Daffodils 23 Banquets Lawn, New Link Road, Malad West
If you are a fan of Arijit Singh's live gig at DY Patil Stadium or the Sula Fest, then this is the place for you as the same organisers are hosting Color Blast.
Holi Fest 2016
Date: 24 March 2016
Venue: Dariya Kinara Resort, Gorai Beach
If you are the adventurous kind, this is the ideal Holi party for you. With mud pools, obstacle courses, and slides, this should be a good way to spend Holi.
Have a safe and fun Holi!