A journalist who wants to donate blood? No thanks, says AIIMS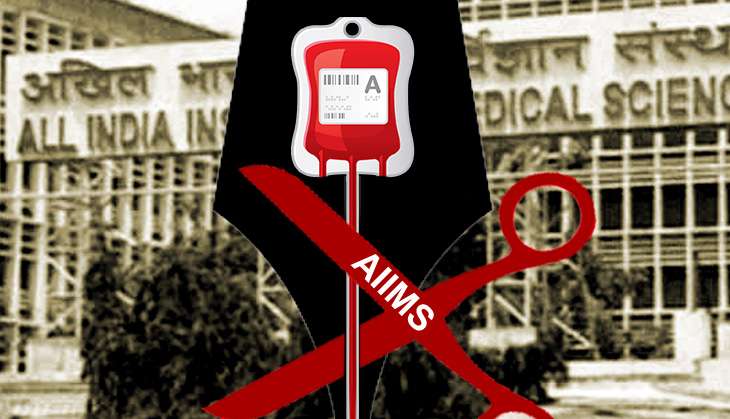 The All India Institute of Medical Sciences (AIIMS), New Delhi, is known as one of the finest multi-speciality public hospitals in the country.
However, on Friday, this writer saw an ugly side to the hospital, which seems to harbour a bias against journalists as well as voluntary blood donors - and if you happen to be both, well, tough luck to you and the patient you're trying to help!
My experience as a blood donor
For the last 13 years, I have been a voluntary blood donor. I am registered with Friends2support, a database where anyone can find a blood donor, free of cost. The organisation has won accolades from the United Nations, NASSCOM and the Limca Book of Records.
For long, I have been donating blood at AIIMS, for patients who are poor and come from the hinterland. In most cases, a friend, relative or an NGO finds donors through the database and that's how we are connected.
On Thursday, I received a call from Sanjeev (name changed), who is financially supporting the family of Ankit (15). Ankit and his brother are both suffering from cancer. Sanjeev asked if I could donate blood for Ankit, and if possible, if I could ask some other friends to do so too. I said sure, and visited the main blood bank at AIIMS on Friday, duly filled up the form with patient and donor details, and deposited a photocopy of my passport.
'Journalist?' Shock and horror
Inside the blood bank, the lady sitting at the counter analysing forms asked me what my profession was. I said I was a journalist. She then whispered something to her colleague, and went to her senior and handed her the form. The senior then stepped out of her room with the form and came back after a few minutes.
She asked me how I knew the patient. I told her about Friends2support, and explained how the whole thing works. The senior then began a tirade against NGOs and associations - how they were frauds and charged money from patients. She also accused that there were rackets which were robbing poor people like this.
I told her clearly that I wasn't here for money. She insinuated that some NGOs don't even share the money with donors. I asked her to speak to Sanjeev, who was on the phone with me, but she bluntly refused.
A man, presumably the in charge of the blood donation room, told me that I can donate voluntarily, but it will not be for the patient I was trying to donate for.
Meanwhile, Sanjeev told me that he was trying to reach Dr Kabita Chatterji, faculty in charge of the main blood bank, and asked me to wait outside her room. As soon as she stepped out, I tried to talk to her, but she was dismissive and directed me to one Dr Poonam.
When AIIMS got stung
Dr Poonam Coshic, blood transfusion officer at the main blood bank, had another surprise in store for me. She started off by asking a weird question - if I read the news. She told me how NDTV (it was actually India Today) conducted a sting operation two days ago on rackets operating in AIIMS that trade in blood platelets.
My question was simple - I am here as a voluntary blood donor, and not as a journalist. Why should this fear of journalists and concern about blood platelet rackets deny a genuine blood donor?
She gave the same answer as the man at the blood bank - I could donate, but it is up to them to give it whichever patient they want to.
I told her that the patient was admitted in Ward C, bed number six, and that his family had documents proving that a designated doctor had asked for blood. Unless the patient got a donor, he could not ask for blood from the bank. I even raised the point that I had mentioned the unique health identification number of the patient in the form, which enables the blood bank to ascertain the requirement.
According to Dr Poonam, AIIMS had a high level meeting (possibly after the sting operation), where the decision was taken not to entertain voluntary blood donors coming through community organisations. However, the point remains - isn't this a grave injustice to voluntary blood donors, and journalists?
It's notable that what triggered the problem was me stating that I was a journalist.
The vicious cycle
Throughout my time there, the AIIMS staffers were rude in their behaviour, and seemed to have a total disregard for the patient's plight.
When I was leaving, the patient's unlettered uncle thought I had already donated blood. He was eagerly waiting for the donor's card. I had to tell him that I could not donate. He asked my why.
I had no answer. What if he is forced to find a paid donor now, a donor who will simply say that he is a 'friend'?
India has an estimated blood shortage of 1.1 million units (about 35 tankers). This shortage, according to experts, leads to a black market of blood.
A vicious cycle is created, where the black market abuses patients' families, the media exposes this black market, and AIIMS, goes on to deny genuine donors. And this cycle will go on taking a toll on human lives.
Edited by Shreyas Sharma
More in Catch
AIIMS director Misra in trouble: RS MPs seek privilege motion
Modi opened AIIMS, Gorakhpur. But how good an idea is that?
Helping those in need: AIIMS' 'adopt a patient' scheme is pretty great