Watch: Nawaz Sharif attacked outside London apartment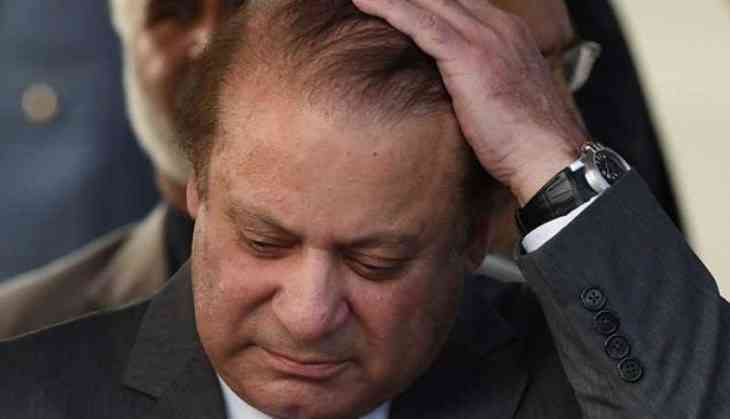 A day after the Avenfield verdict, unidentified men were trespassing Nawaz Sharif's London apartment, a video went viral.
In the first video, the former PM was encountered by unidentified men, they abused him and tried to forcefully enter his apartment.
تھوڑاسالیٹ ہوگئے 😉#AvenfieldApartments #AvenfieldReference
Nawaz Sharif pic.twitter.com/A8dbCLPAq1

— Aamir Liaquat Husain (@AamirLiaquat) July 8, 2018
One of them was seen pushing a trolley at Sharif's acquainted too. In another video, a few people were seen trying to open the main door of Avenfield apartment. There were a few others who threw eggs on the door.
There were many holding Pakistan Tehreek-e-Insaf (PTI) flags and protesting outside Sharif's Avenfield apartment.
It seems that Insafians have taken the lead in London, UK to remind Nawaz Sharif & his entire family in front of #AvenfieldHouse that this property belongs to the poor taxpayers of Pakistan & was acquired by robbing & looting the nation.#AbSirfImranKhan pic.twitter.com/41odlx1lgs

— Munaza Hassan (@MunazaHassan) July 9, 2018
ببلو جس تیزی سے الطاف بھائی بن کر باہر نکلا تھا؛ اس سے دگنی تیزی سے مریم نواز بن کر فرار ہوگیا 😂😂😂
ویڈیو دیکھیں اور RT کریں pic.twitter.com/EzCjrPwk71

— Osama HT (@realOsamaHT) July 9, 2018
Nawaz Sharif and daughter Maryam are to reach Lahore on Friday evening to surrender in Avenfield case, where Sharif sentenced to 10-years imprisonment and daughter Maryam to seven years. The former prime minister's son-in-law, Safdar has also been sentenced to a year in prison.
Also Read:Thai cave rescue: Elon Musk leaves 'impractical kid-sized sub' to be useful in the future