Viral Video: Black man screams for mother as US cops kick, beat him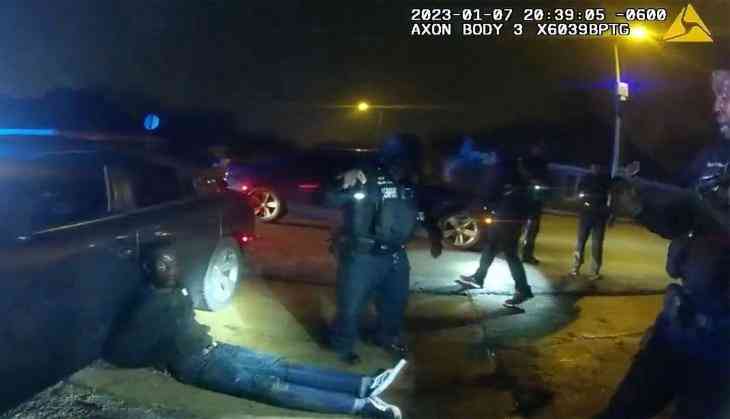 Memphis authorities put out over an hour of footage on Friday of the violent beating of Tyre Nichols in which officers held the Black motorist down and thrashed him repeatedly as he screamed for his mother.
The video footage surfaced one day after the police officers, who are all Black, were charged with murder in Tyre Nichols' death.
The footage displays policemen brutally thrashing the 29-year-old FedEx worker for three minutes while screaming cuss words at him throughout the attack. The Nichols family legal team has compared the assault to the infamous 1991 police beating of Los Angeles motorist Rodney King.
Here's the video:
ABC NEWS SPECIAL REPORT: Memphis officials release video of Tyre Nichols' confrontation with police. https://t.co/nTbQxunsCE https://t.co/ICRbiMdF8O

— ABC News (@ABC) January 28, 2023
"I'm going to baton the (expletive) out you," one officer can be heard saying. His body camera shows him raise his baton while other officer holds Nichols.
After the first cop roughly pulls Nichols out of his car, Nichols can be heard saying, "I didn't do anything," as a group of officers begins to beat him up to the ground.
"Get on the ground!," one officer shouts, as another is heard saying "Tase him! Tase him!"
Nichols calmly replied soon after being wrestled to the pavement, "OK, I'm on the ground." Moments later, as the officers continue to yell, Nichols says, "Man, I am on the ground."
An officer shouts, "Put your hands behind your back before I break your (expletive)." Moments later, an officer yells, "(Expletive), put your hands behind your back before I break them."
"You guys are really doing a lot right now," Nichols says loudly to the policemen. "I'm just trying to go home."
"Stop, I'm not doing anything" he yells moment later.
The camera is briefly obscured and then Nichols can be seen running as an officer fires a Taser at him. The officers then start running after Nichols.
Following the beating, officers milled about for some time while Nichols lay propped up against the car, then slumped onto the street.
After the arrest, Nichols "complained of having a shortness of breath, at which time an ambulance was called." Nichols was taken to a hospital in critical condition, police said.
Three days later, on January 10, Nichols "succumbed to his injuries," the Tennessee Bureau of Investigation said, but did not elaborate on what those injuries were. An official cause of death has not been released.
Also Read: Shocking Video: US cop repeatedly punches black woman in face while making arrest