Turkey earthquake toll rises to 24,617; search and rescue operations underway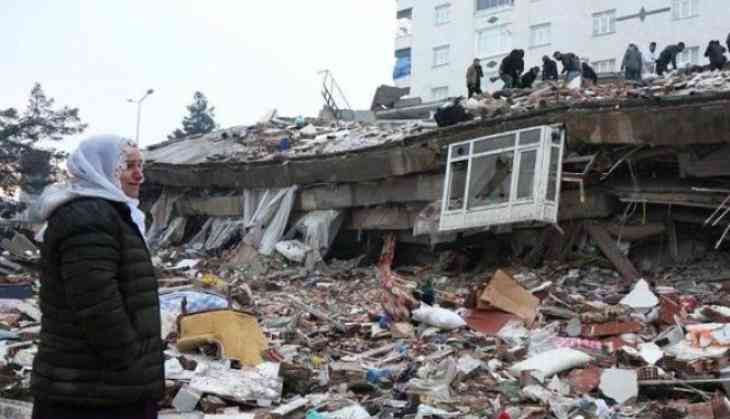 The rescue and search team in quake-hit Turkey's Antakya are fighting against time to save the people as the death toll in the country reached 24,617.
Antakya one of the beautiful cities, had become a pile of debris. Residents witness the devastation of their dream houses into ashes. And, those houses which somehow survived the high-magnitude quake are being demolished as it became dangerous for the people. People watch their houses being destroyed with grieving heart.
Women who have lost their homes are watching debris coming out of their houses with the help of bonfires under the open sky. Even luxurious cars couldn't survive the earthquake and turned into debris. Relief rescue work is in full swing.
This beautiful mosque of Antakya also did not survive the tremors of the earthquake and got destroyed in Turkey quake.
A panic-like situation prevails in the city... Police personnel on the road and the army can be seen giving way to ambulances and vehicles engaged in relief work. Seeing an ambulance on the street has become common in Antakya.
As the death toll keeps increasing, UN relief chief Martin Griffiths describes the powerful earthquakes that jolted southern Turkey and northwestern Syria earlier this week as the "worst event" to hit this region in a century, Anadolu Agency tweeted.
Meanwhile, Turkey's police arrested around 100 people over the alleged looting of damaged buildings, robbery or defrauding victims of last week's devastating earthquake, CNN reported citing Turkish state-run news agency Anadolu reported.
According to security sources, who wished to remain anonymous "due to media restrictions," investigations were carried out into at least 42 suspects in Turkey's southern Hatay province over claims of looting damaged buildings.
At least 40 suspects were arrested and security teams seized six guns, three rifles, jewellery, bank cards, USD 11,000 and 70,000 Turkish lire (around USD 3,700) in cash, state news reported citing the sources.
Two other people were also arrested after posing as aid workers and allegedly trying to loot six truckloads of food for quake victims in Hatay province, the agency said.
At least six people were also arrested in Istanbul over allegedly defrauding a victim of the earthquake in southern Gaziantep by phone, CNN reported.
Elsewhere in the country, dozens of other suspects were arrested for alleged looting and robbery in quake-hit areas, CNN said.
The suspects had been arrested across at least eight provinces including Kahramanmaras, Hatay, Adiyaman, Malatya, Osmaniye, Adana, Gaziantep, and Sanliurfa, CNN added.
(ANI)
Also Read: Pakistan: Two Frontier Corps officers killed, three soldiers injured in blast in Balochistan