Trudeau's visit: How Modi govt, Captain and media tried to create a Khalistan bogey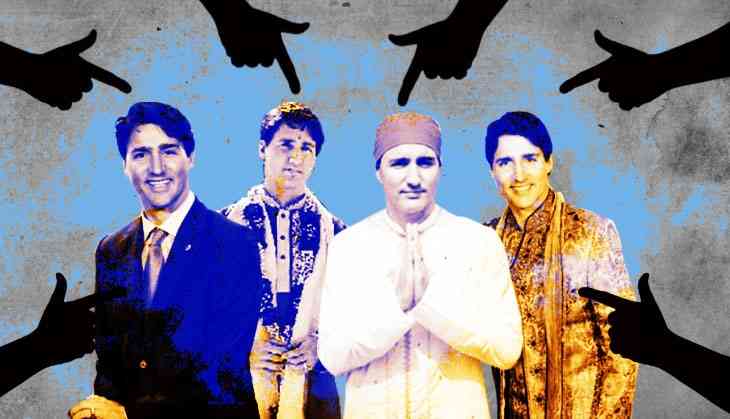 The week-long India trip of Canadian Prime Minister Justin Trudeau has been marred by controversy especially because a lobby which is adamant to create a Khalistan bogey appears to have been successful in its attempts.
But this has left the Indian government facing questions which it will find difficult to answer in the days to come.
Just a day after the Trudeau family's visit to Harmandir Sahib and the meeting of the Canadian delegation with Punjab Chief Minister Captain Amarinder Singh, a controversy erupted over a invite to "terrorist" Jaspal Atwal at an official dinner reception of the Canadian High Commissioner Nadir Patel.
The case of Jaspal Atwal
The invite had to be rescinded by the Canadian authorities who were left red faced. Atwal was among those who were reportedly convicted for an attempt to murder Akali leader Malkiat Singh Sidhu in Canada in 1986. He was also charged for an assault on former British Columbia premier Ujjal Dosanjh in 1985 but was not convicted. Dosanjh is known to be a vocal critic of religious extremism.
The dinner invite episode had followed Amarinder reportedly handing over a list to Trudeau of nine operatives allegedly involved in financing and supplying weapons for terror activities. In addition to this was a list of 11 Canada based elements allegedly involved in the drug trade in Punjab whom the state government wants extradited. Some of these have been declared proclaimed offenders.
What is being debated at length in Punjab is why so much importance is being given to the issue of Khalistan in context of Trudeau's visit. Khalistan sympathisers are a small minority among Canadian Sikhs and such elements are present in other countries like United States, United Kingdom, Norway, Germany Australia and New Zealand as well.
Coming back to Atwal, apparently this is not his first visit to India in the recent years. Secondly, he no longer figures in the black list of the Union Home Ministry. So the basic question that the Indian government needs to answer is that how did he get a visa to enter India if he is so much despised for his support to the cause of Khalistan which according to reports in Canadian media he gave up several years ago. There are also reports that recently Atwal was honoured by a Delhi based leader of the Shiromani Akali Dal (SAD), the party to which Malkiat Singh Sidhu belonged.
Hypocrisy
Another thing that has upset a large number of Punjabis is the manner in which Khalistan sympathisers continue to be projected as villains. There are posts doing rounds on the social media that talk about fundamental right of freedom of expression and raise the question that if the Hindutva organisations can openly talk about the concept of a Hindu Rashtra what is wrong if a section of the Sikhs sympathise with the concept of Khalistan. There is a post on Facebook post by lawyer Harjot Singh Bains that reads, "I am a Secular Sikh. But this question comes to my mind. If demanding a Hindu Rashtra is not Anti Nationalist, then how come idea of Khalistan becomes Anti Nationalist ? Why no action against RSS & Individuals who Openly Demand Hindu Rashtra."
It is also being pointed that raising Khalistan slogan even in India is no crime according to the 1995 verdict of the Supreme Court.
It is also being pointed that even Amarinder in his past visits to Canada has addressed the Punjabi diaspora in Gurudwaras with posters supporting the the cause of Khalistan in the background. Such pictures were in circulation ahead of the Punjab assembly polls last year when political affiliations to hardline elements dominated the political narrative during the campaign.
The politics on the issue continues even today. On Thursday only, the Delhi Sikh Gurudwara Management Committee (DSGMC) issued a statement attacking Amarinder for linking Sikhs to terrorism. DSGMC president Manjit Singh GK said, "By raising the issue with Trudeau, the Punjab chief minister is trying to polarise society for political gains."
Observers say that Amarinder sharing the list of those financing and involved in operating terror activities with Trudeau also indicates his co-ordination with the Union home ministry and external affairs ministry.
But the most intriguing question remains why the bogey of Khalistan is being raised more vociferously in context of Canada and not any other country where too Khalistani supporters are known to be residing. "There have been attempts to pain Canada in such a manner in the last four to five years," points out Dal Khalsa leader Kanwar Pal Singh.
"After coming to power in 2014, the Narendra Modi led Bharatiya Janata Party (BJP) government at the Centre tried to open backdoor channels through Sikh affiliates of the RSS with the so called peripheral separatist groups in both the United Kingdom and Canada. But these efforts did not yield any result. When this allurement did not work, it went on to the next stage of defaming and smashing these groups. It is the defaming and smashing that is still at work," pointed an observer.
Unfortunately a large section of the Indian media has willingly become a tool in this game. It remains to be seen how these layers unfold in the days to come when the hype on the Trudeau visit dies down.