Suu Kyi in Delhi: India-Myanmar to strive for cooperation on security & trade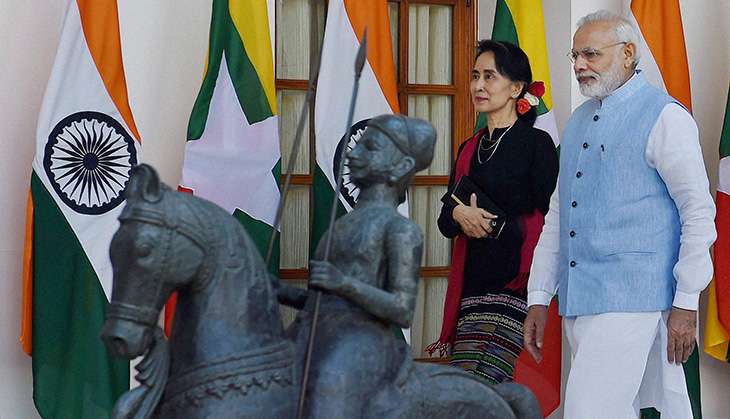 Myanmar's most influential political leader, State Counsellor Aung San Suu Kyi, is in New Delhi on her first visit since her National League for Democracy came to power.
Suu Kyi, also the country's foreign minister, had chosen Beijing as her first destination. But now that she has come to India, the two countries have vowed to strive for more cooperation on security, trade and other aspects of the bilateral relationship.
In addition to the four MoUs signed during the visit of Myanmar President U Htin Kyaw in August, both sides signed three new MoUs today, in a bid to consolidate India's presence in the strategically important but oft-ignored neighbouring country.
"We have agreed that a close coordination to ensure security in the areas along our border, and sensitivity to each other's strategic interests, will serve the interests of both our countries," said Prime Minister Narendra Modi, addressing the press after the meeting the 1991 Nobel Peace Prize laureate.
PM Narendra Modi greets Myanmar State Counsellor Aung San Suu Kyi in New Delhi. (PTI photo)
The terror aspect
Suu Kyi condemned the terror attack on Indian Army personnel in Uri, and conveyed her deep condolences to the loved ones of those who lost their lives. Modi, meanwhile, "condemned the recent armed attacks against three border posts in the northern part of Rakhine state, and expressed his profound sympathy for the families of the policemen killed in the attacks," according to the joint statement released after the meet.
India's aggressive diplomatic efforts to isolate Pakistan also find resonance in the joint statement. "Both sides condemned terrorism in all its forms and manifestations as well as all acts, methods and practices of terrorism wherever, by whomever, against whomsoever committed, and agreed that the fight against terrorism should target terrorists, hold to account terror organisations, networks and also States that encourage, support or finance terrorism in any way."
While the joint statement mentions that the fight against terrorism should target States encouraging, supporting and financing terror, Suu Kyi, in an interview to a newspaper, responding to India's diplomatic push against Pakistan on the question of terrorism, said: "Terrorism is rife all over the world, so I think it's terrorism we need to isolate and to eliminate. I do not like to think in terms of individuals or organisations or countries, although these come into the equation as well."
Continued diplomatic push
Suu Kyi's visit comes after a series of high-level contact between the two countries, including President Kyaw's visit to New Delhi in August, and External Affairs Minister Sushma Swaraj's recent visit to Myanmar.
Prime Minister Modi had earlier met State Counsellor Suu Kyi on the sidelines of the East Asia Summit in Vientiane, Laos. NSA Ajit Doval and Foreign Secretary S Jaishankar, too, have kept Myanmar engaged with multiple visits.
Close cooperation on the security along the border is key, for India and Myanmar share a 1,640 kilometre border, which has been a hotbed of all kinds of insurgent groups engaged in a war against the Indian State, including ULFA and the NSCN (Khaplang). Many of these groups have taken refuge and have camps on the other side of the border, making things difficult for the Indian security forces, despite good working relations between both the armies.
In recent years, Indian security forces have carried out at least two operations on the other side of the border in Myanmar against the terrorist groups, especially NSCN(K). Strangely, this was pointed out by Minister of State for Home Affairs Kiren Rijiju in a tweet, even as Suu Kyi was in New Delhi.
Myanmar itself continues to be embroiled in ethnic conflicts, especially in the Kachin and the Rakhine states, where Rohingya Muslims have been facing what has been called a 'genocide' by several experts.
In a recent incident, which is being attributed to the militant Rohingya Solidarity Organisation, several policemen were killed in a targeted attack. Initial investigations have pointed to the role of Pakistani-trained insurgents.
India, meanwhile, has "expressed the hope that, as a diverse and pluralistic society, Myanmar will be able to find equitable solutions peacefully through consultations among all stakeholders".
Trade and connectivity
In the face of an aggressive China, and with Myanmar an important cog in his Act East Policy, Modi said both leaders had "agreed to enhance our engagement in several areas, including agriculture, renewable energy and power sector", and that "India will develop a Varietal Development and Seed Production Centre in Yezin in Myanmar", "work to develop a mutually beneficial arrangement for trade in pulses", and "offered to scale up the power supply from Moreh in Manipur to Tamu in Myanmar".
Modi explained how the "the MOU on cooperation in the power sector signed just now will help create the framework for advancing our linkages in this important sector".
Bilateral trade between both countries stood at $2 billion in 2015-16, while the China-Myanmar bilateral trade stands at $9 billion.
During President Kyaw's visit in August, the two sides had agreed to promote trade and expand cooperation in all these sectors, and MoUs were signed to fast track the construction of roads part of the ambitious Trilateral Highway.
The joint statement notes that a "that areas for cooperation identified during the visit to India of Myanmar President U Htin Kyaw in August 2016 would be fast-tracked for implementation".
Several big ticket projects, including the Trilateral Highway and the ambitious Kaladan Multi Modal project, are running behind schedule.
Amar Sinha, India's economic relations secretary, tried to explain how these projects had taken time to get from the idea stage to the financing stage, but would be completed in the next two to three years.
"On Kaladan, the waterway component will be over in December this year, the road part which connects it to Mizoram, we have floated the tenders and it will take three more years to complete because it is a Greenfield project," Sinha said in an earlier media briefing.
Meanwhile, with Buddhism an important part of India's soft diplomacy, PM Modi has "offered assistance in restoring pagodas damaged in the recent earthquake in Myanmar". He also said "the Archaeological Survey of India will also soon begin work on restoring two old temples and inscriptions of King Mindon and King Baygyidaw in Bodh Gaya".
Edited by Shreyas Sharma
More in Catch
India, Myanmar ink 3 agreements in power, banking and insurance sectors
Myanmar President Kyaw visits India: what does this mean for bilateral ties?
World Refugee Day: For Myanmar's refugees, India a bleak house, not home