Myanmar President Kyaw visits India: what does this mean for bilateral ties?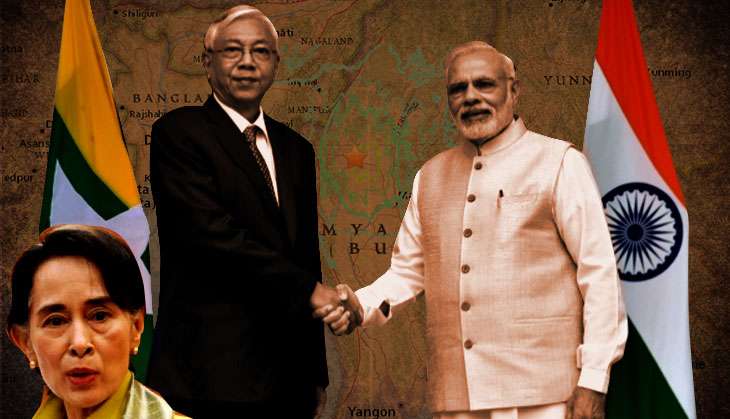 Myanmar President U Htin Kyaw paid a consequential visit to India from 27-30 August 2016. This was the first contact between the top leadership of the two countries since the new Head of State assumed office in March 2016.
The visit was Kyaw's first overseas, and underscores the importance that Myanmar attaches to its relations with India.
It is also pertinent to remember that President Kyaw is a loyal aide and confidant of de facto leader Aung San Suu Kyi, who was appointed because Suu Kyi herself could not assume that office due to a constitutional provision which debars citizens having spouses or children holding foreign nationality from this post. Since Suu Kyi's sons are British citizens, she herself could not become President, and instead, chose her devoted follower to discharge this responsibility.
Also read-Meet Htin Kyaw, Myanmar's first civilian president
Key points of the dialogue
The visit provided a valuable opportunity to the two countries to have a comprehensive dialogue on all issues of mutual interest and concern.
The most important message conveyed to President Kyaw came from Prime Minister Narendra Modi, who said that "at every step of the way, 1.25 billion people of India will stand by you - both as partners and as friends."
This message was both in context of bilateral ties, as well as in the regional context of providing counterpoise to the increasing influence of China in Myanmar's affairs, which often makes Myanmarese citizens and leaders wary and nervous.
During the wide-ranging talks between the two leaders, particular focus was accorded to security on the 1,640 kilometre-long border between India and Myanmar. Insurgents from Indian states often seek refuge in the jungles of Myanmar to launch strikes against Indian civilians and security forces. With Myanmar's cooperation, India is effectively dealing with this menace.
Myanmar's support to India in ensuring security was reiterated during External Affairs Minister Sushma Swaraj's recent visit to Naypyidaw, when she was reassured by no less than President Kyaw that Myanmar will not allow its territory to be used for attacks against India. This commitment was reiterated during President Kyaw's recent visit.
Myanmar is the springboard for providing connectivity between India's Northeast and ASEAN countries. Myanmar, hence, plays a critical role not only in the stability and security of the Northeast, but also in its economic development.
Two out of the four agreements signed during President Kyaw's visit relate to improving connectivity. The first is the India-Myanmar-Thailand trilateral highway, which is expected to be completed by 2020, after 69 bridges are constructed. The second relates to the upgradation of the road segment between Kalewa and Yagyi. The early completion of Kaladan Multimodal Transit Transport Project by December 2016 was highlighted. Both countries expressed their resolve to strengthen maritime security cooperation in the Bay of Bengal.
Myanmar, hence, represents the pivot around which the success of ''Act East Policy'' launched by PM Modi in Naypyidaw in November 2014 revolves.
It was decided to strengthen engagement in economic and commercial cooperation, including agriculture, banking, power and energy, and trade in pulses. Both countries agreed to expand cooperation in oil exploration and hydrocarbon pipeline construction by Indian companies.
India offered to share its experience of creating institutions for a vibrant and responsive democracy, as also to deal with issues of relations between Centre-states and regions, as well as ethnic and religious minorities. India expressed support for the national reconciliation and peace process of Myanmar, under the 'Panglong Conference'.
It was decided to give further impetus to development cooperation, including capacity building, education, healthcare, infrastructure and strengthening of institutions in Myanmar.
Promoting cultural cooperation and academic exchanges was accorded significant emphasis.
Suu Kyi's China visit
While noting with satisfaction the positive outcome of President Kyaw's visit, it is pertinent to remember that Suu Kyi, the State Counsellor, Foreign Minister and veritable head of Myanmar, chose Beijing as the first country to visit after assuming office.
When she was under house arrest, Suu Kyi was highly critical of Chinese support to the military junta. After assuming power, the virtues of realpolitik appear to have caught up with her and she seems to have realised the need to mend fences with Beijing to advance her domestic agenda.
Domestic security and economic considerations appear to have been basic determinants of Suu Kyi's reach-out to China.
Myanmar and China share a common border of over 2,000km, along which at least six armed ethnic groups that have not joined the Nationwide Ceasefire Agreement continue to operate. China's support is considered crucial to the success of the Panglong Conference on 31 August 2016, which is an attempt to bring peace amongst embattled ethnic groups.
The cancellation of the Chinese-funded US$3.6 billion Myitsone dam in 2011 continues to be a serious impediment in advancing bilateral relations. Suu Kyi got a commission appointed to review Myitsone and other hydroelectric projects. In Beijing also, she made all the right noises.
India-Myanmar relations
India is late in reaching out to Suu Kyi after her assumption of power. Swaraj was the first senior Indian leader to reach Naypyidaw for a one-day visit on 22 August, a good four-and-a-half months after the Suu Kyi regime was sworn in.
This delay notwithstanding, India has considerable strengths with which it can quickly make up for lost time. Both countries share a heritage of religious, linguistic, cultural and ethnic ties.
Suu Kyi will visit India in October for the BRICS-BIMSTEC Summit, during which she will meet Prime Minister Modi and other world leaders.
Takeaways for Myanmar
For Myanmar, enhancing ties with India can help counterbalance China's influence, and also develop its economy by using Indian investment, expertise and capacity.
The transition to a civilian government in Myanmar has given greater strategic space to India.
The message President Kyaw takes away from Delhi is that India stands ready to support Myanmar in every possible way on its march to security, reconciliation and prosperity. As PM Modi said: "A bright future for Myanmar is not just your objective. It is also our aspiration."
Edited by Shreyas Sharma
More in Catch
Dawn of a new hope in Myanmar? Suu Kyi still has to walk a tightrope
India must show interest in Myanmar: Pulitzer-winning journalist
World Refugee Day: For Myanmar's refugees, India a bleak house, not home