Russia: Explosion at petrol station claims 27 lives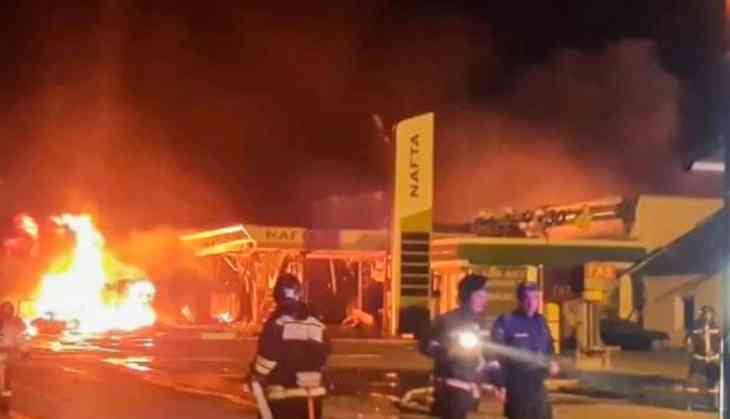 Russia: Explosion at petrol station claims 27 lives (Twitter)
Moscow: A petrol station in the southern Russian region of Dagestan became the epicentre of a devastating explosion and fire that claimed the lives of at least 27 individuals.
The blast occurred in Makhachkala, the regional capital situated along the Caspian Sea coast.
The incident also resulted in numerous injuries, although the exact cause of the explosion is yet to be identified.
Night Sky Engulfed in Flames: Scenes of Chaos
The explosion at the petrol station resulted in a massive fire that illuminated the night sky, casting an eerie glow over the surroundings.
Multiple fire engines were dispatched to the scene, accompanied by approximately 260 emergency workers who tirelessly battled the inferno's ferocity.
Injured and Evacuated
Amidst the chaos, numerous individuals sustained injuries. Some of these injuries were severe, requiring urgent medical attention. In response, an aircraft was mobilized to evacuate the critically wounded to Moscow.
Children Among the Victims
The devastating incident claimed the lives of three children, as reported by Russia's Interfax news agency.
Unravelling the Mystery: Investigation Underway
Preliminary information points toward the origin of the fire being linked to car maintenance activities. The investigation aims to provide clarity regarding the sequence of events and the factors that contributed to the disaster.
According to an unnamed witness quoted in the Russian newspaper Izvestia, the fire is believed to have originated from a car lot located opposite the petrol station.
Russia's Investigative Committee has initiated a criminal case to establish accountability for the tragedy.