Rohingya crisis: Bangladesh asks India to not mix up humanitarian & security aspects
Catch Team
| Updated on: 6 October 2017, 19:11 IST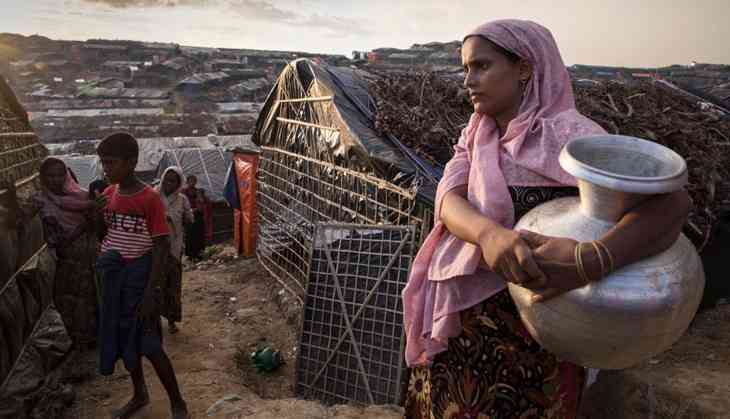 (Paula Bronstein/Getty Images)
Amidst alarming reports that Bangladesh now has a bigger population of Rohingyas than Myanmar, the Eastern neighbour has asked India to not mix up the humanitarian and security aspects of the conflict in Rakhine.
Bangladesh's Foreign Secretary Shahidul Haque is said to have conveyed this to his counterpart S Jaishankar while he was in New Delhi to attend the World Economic Forum meeting. On the sidelines, he had wide-ranging discussions with Jaishankar and National Security Advisor Ajit Doval, especially on the violence and subsequent exodus from Northern Rakhine.
External Affairs Minister Sushma Swaraj is scheduled to visit Dhaka later this month.
An out-of-hand crisis
The stress on Bangladesh has been increasing as the inflow of refugees continues even after almost more than 40 days after the first instance of violence on 25 August. Mark Lowcock, UN under-secretary-general for humanitarian affairs, while appealing for access to the population in northern Rakhine, said the situation was "unacceptable" and the flow out of Myanmar has not stopped yet.
"Half a million people do not pick up sticks and flee their country on a whim," he said.
Haque said as much when he stressed that it was a case of ethnic cleansing. "It is not only people's movement but it is also a security issue, a border issue, which has the potential to destabilise the region, not just areas in Myanmar and Bangladesh," Haque said, while stressing how the solution to problem lies in Myanmar and how Dhaka wants the refugees to return "as soon as possible".
Under pressure, Myanmar has set up a working group with Bangladesh to facilitate the return of Rohingyas which Bangladesh calls "forcibly displaced Myanmar citizens". Dhaka has also demanded that Myanmar implements the Kofi Annan Commission report in full and without any pre-conditions.
The existing population of Rohingyas in Bangladesh had led to tensions with the local populations. This time Bangladeshi government, while extending them hospitality has been strict and ordered restrictions including no sim cards, and confining the whole refugee population to one camp in Kutpalong.
While India sees the existing population of around 40,000 Rohingyas as a security threat, Haque had a different take.
"Not that it always becomes (a security threat), depends on how you manage it. So far the government of Bangladesh has been able to contain that. It has not moved into a security area. The population continues to remain neutral. They all look forward to go back. It is the responsibility of the State not to allow it to happen," the Bangladeshi Foreign Secretary said, even as he explained how concerns over security, radicalisation et al should not come in the way of dealing with it what is fundamentally a humanitarian issue.
On the same page?
Bangladesh, with no option but to host the sheer number of people forced out of their homes, had not taken in too kindly to how Indian government was trying to skirt the issue, even as it kept calling for deportation of Rohingyas in India.
It conveyed as much to New Delhi, which in fact led to modifications in India's stance including pressure on Myanmar to rein in the security forces, and humanitarian aid to Bangladesh.
With New Delhi lending an ear to Bangladeshi concerns, Foreign Secretary Haque now says India and Bangladesh are on the same page even as he praised India's stance including at the UNHRC. While External Affairs Minister Swaraj had not mentioned the issue during her address at the UNGA, India's stance at UNHRC in Geneva was much more on the lines of what Bangladesh expected.
"India remains deeply concerned at the situation in Rakhine state of Myanmar. It is important for the Myanmar security forces to handle the situation with restraint, focusing on the welfare of the civilian population," the Indian representative told the Council's 36th Session as per reports, even as it commended Bangladesh for extending humanitarian aid to such a large number from Rakhine.
India had also called for implementation of the Kofi Annan Commission recommendations as a solution to the crisis.